Sagebrush Annie & the Sagebrush Route
Chief Bootlegger & Builder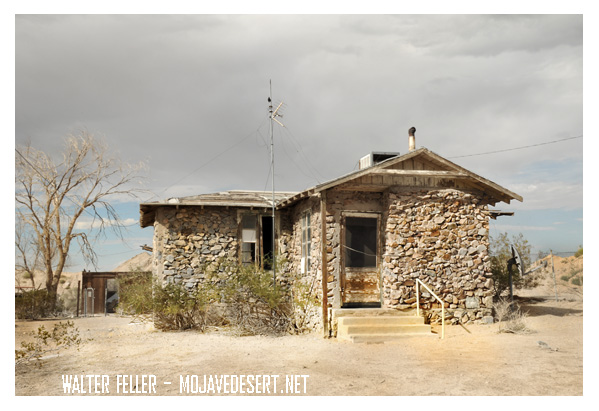 The construction of new businesses on the Sagebrush Route began around 1931, and some of the structures were built by Guy Wadsworth, chief bootlegger for the Oro Grande/Helendale area.

Prohibition ran from 1920 to 1933, which means that the highway was constructed right at the height of this unpopular act. E. Q. Sullivan was well acquainted with those who skirted the law. He said, "In the early period of District VIII, there were a number of moonshine stills throughout the desert region. Their product was usually referred to as turtle juice." It supposedly was made from cactus and distilled in a hidden canyon at a considerable distance from the shack of the moonshiner.

One day, headquarters sent an out-of-state engineer to accompany Sullivan on his travels, and this fellow sampled the wares of several moonshiners along the way....and partook generously. When they got back to town, the young engineer was still on his feet, but only barely. The next morning he called Sullivan in a panic--he had gone blind. After a few weeks of intense medical attention his sight was somewhat restored.

In those days there were "road associations," which promoted good roads and, with the occasional assistance of the Automobile Club, set up tours along the highways, some out to the desert. Sullivan sometimes would accompany them in a public relations capacity for the State Highway Department, making it a point to tell about the experience of the injudicious engineer blinded by the liquor. He said this warned the mature men, but it just whetted the appetites of the young ones.

On one memorable occasion, a leader of one of the groups said that if you really wanted to enjoy turtle juice you should not drink it from a glass, because if you did, you might look through the glass and see the blue fusel oil floating around. On the other hand, he said, you should not drink it out of a tin cup because if you did this, and it tasted tinny, it was hard to tell whether the metal taste was from the moonshiner's still or from the tin cup. In view of this, he always carried along a supply of paper cups for the group.

Nearly all of the more rugged members of the party eagerly accepted a sample of turtle juice. It was served up in the paper cups. Everybody was polite and waited until all were served before toasting the success of the expedition. Suddenly someone noticed that his paper cup was leaking. He called for a new cup, but then everyone else discovered their containers were dribbling liquid. This batch of spirits had eaten holes right through the paper cups.

There is no direct evidence that Sagebrush Annie trafficked in moonshine during the early 1930s, but to be competitive, many businesses located at that place and time probably felt compelled to provide alcohol to their customers. Henry Jay wrote about his father's place at the Hodge Station on Route 66 during the 1920s and '30s, which was located about 13 miles down the road from Sagebrush Annie's.

Jay's most likely was representative of all the stations. Henry stated, "...we had a filling station, a little store and a shade-covered area for people to rest and picnic. My father made homebrew beer and people would come over and enjoy a glass or so. The moonshiner Guy Wadsworth sold whiskey to my father." Mr. Jay would pay Guy at the station, then at night he went to a prearranged spot out in the greasewood bushes and picked up his small keg of whiskey. He then poured this into half-pint bottles and sold them to special customers. If he was like others at that time, he probably gave some to customers who settled their accounts, or at least made a payment on them--a nice incentive for them to pay.

The deputy sheriff at the time was J. E. "Pop" Farley, an honest lawman in Jay's opinion, but one who did not go out of his way to harass the local businessman or rancher over Prohibition violations. Mr. Jay somehow always found out in advance about a planned raid, even though he did not have a phone. And when "Pop" did come in his big black touring car, it was with sirens screaming, so that you could hear him several minutes before he came into view.

Nevertheless, Pop Farley did arrest bootleggers, so Henry Jay's statements cause the record to be mixed. It is possible that if the businesses were discreet about the liquor sales, Farley let them slip by--these folks were, after all, part of his community and most likely acquaintances.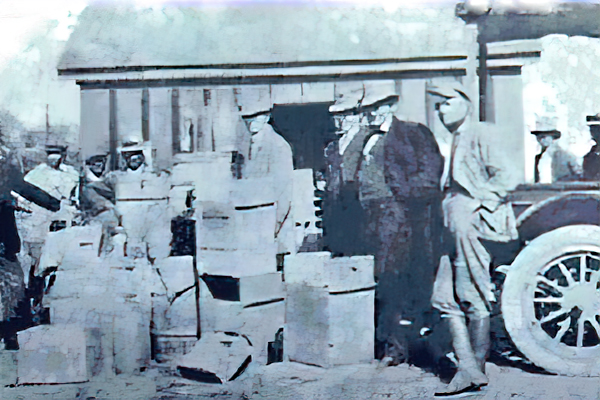 Constable and sheriffs raid bootleggers
Courtesy of Mohahve Historical Society

Bootlegger Guy Wadsworth, a grizzled Spanish-American War veteran, was in his mid-50s in 1929 when he found himself in trouble with the law on several counts that came to court in early 1930. He had always been gruff and profane, though some say he was a decent fellow once you got to know him, but in 1929 he turned violent. Perhaps he was sampling too much of his own moonshine.

In January 1930 he was brought to court for an encounter with a bus driver on a one-lane Mojave River bridge. The bridge was too narrow for the bus and Guy's vehicle to pass by each other; neither would let the other through, and so they had a fight right there on the bridge. That fracas did not end the matter, so the combatants both filed a citizen's arrest against each other. The judge sided with the bus driver and Guy was found guilty of disturbing the peace and sentenced to 30 days in jail. That same month he was in court for the possession and sale of liquor, for which he received a stiff fine of five-hundred dollars.

The worst was yet to come. He had been down in the Muscoy area near San Bernardino, apparently on some bootlegging business, when Deputy Sheriff J. A. Larson stopped him and attempted to search his car for liquor. Guy came up behind the deputy and started beating him with a monkey wrench. This earned him a year in jail, but by March of 1930, after being locked away for only two months, he wanted out. He complained that he hadn't received a fair trial and he wanted to be released, but he did not receive any sympathy from the court--three months later he was still requesting an early release.

In addition to Guy's bootlegging career, he was also a farmer and a builder, and he built most of the stone buildings out in the area. He seems to have put up quite a few structures after being released from jail, so maybe he decided to channel his energy into something more productive.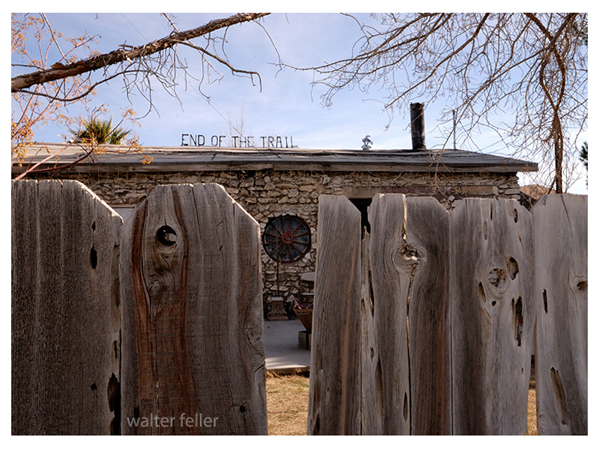 Photo of End of Trail stone house features a wagonwheel window


It is rumored that he built his structures in such a manner that bootleg whiskey could be concealed among the rocks, at least he did so for his own house. This was so cleverly done, the story goes, that local law enforcement officers were entirely baffled, even after multiple attempts to expose the contraband.

However, according to another source, Constable "Penny" Morrow, Guy was not particularly adept at fooling the authorities. The constable said that he knew where Guy's still was, "...up at the chalk mines, four-five miles up the hill." Morrow bragged that he had "pinched" the miscreant many a time. "Old Guy would rather make one dollar illegally than two legally," he quipped.

Whether or not the hidden chambers had anything to do with it, Guy Wadsworth was in demand as a builder. What remains of his humble structures of rock can be seen on the Sagebrush Route. They have a certain air to them, a signature style as it were, and it is easy to spot them as you are driving through the area.

< Previous - Next >
Contents
Two Ruts in the Sand
The Needles Road
Chief Bootlegger & Builder
Sagebrush Annie
Roadhouse
Sage Brush Route Tour
National Old Trails Road
Sidewinder Road (I-15 Freeway)
Oro Grande, Ca.
Helendale, Ca.