Sagebrush Route Tour
White Orange Cafe & Motel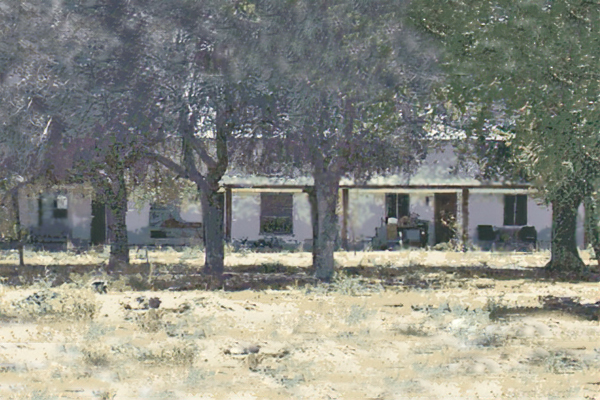 White Orange Motel

6.50 -- White Orange Cafe (east).

By August 1946, James G. Blaine and his wife and daughter had their White Orange Cafe in operation. The name is thought to have derived from the family's coat of arms.

That the Las Vegas set was using the highway is shown by a minor incident in 1948 involving dancer/actor Gene Kelly. It is said that Gene stopped in for one of Mrs. Blaine's famous chicken dinners, and while waiting for the order to be prepared he put his feet up on a chair. Mrs. Blaine gave him a major bawling out, and Gene apologized.

Besides the cafe there are some motel buildings out in back. This is the first cafe/motel to be built following the county's adoption of a building code, sometimes referred to as the "anti-shack ordinance," and the difference in the quality of construction from what was built before is striking. The building is now an antique store. In the back can be seen the motel buildings, which have been converted into rentals.


Oro Grande Underpass
Danny's Place
The Iron Hog
La Delta
End of the Trail
Elva's Malt Shop
Potapov's Service Station
Sage Brush Inn
White Orange Cafe & Motel
Watson's Richfield
Polly Gas
Helendale Store
Burden's Store & Post Office