Sagebrush Route Tour
Elva's Malt Shop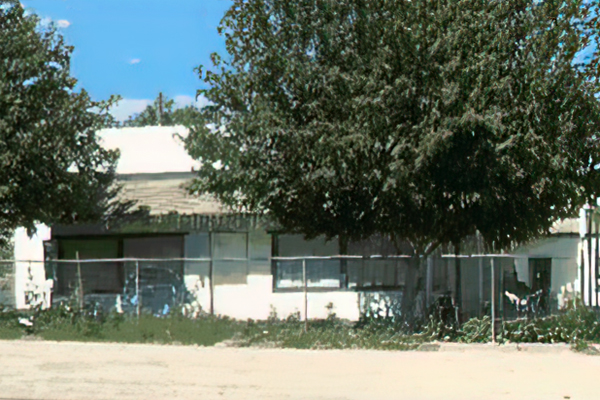 5.25 -- Elva's Malt Shop (west) -- now a residence.

The first structure at this site is where well-known Victorville resident Fred Bosch retired. The next few houses to the north were built by K. T. Smith and these are where the Smith family lived. The last structure, the one painted white with green trim, was Elva's Malt Shop.

After World War II, with the rationing of fuel and tires a thing of the past, traffic increased and in 1946 rancher K. T. Smith saw an opportunity to build a commercial development to supplement his income. He built the malt shop next to his Happy Days Ranch, and the place became locally famous for its "frosties." Mrs. Smith also specialized in orange juice, which up to that time had not been readily available along the highway.

The building was described as being painted in a cool green shade with just a touch of red to catch the eye, which was a veritable invitation for the tired motorist to "pause and refresh." The business was named after the Smiths' daughter.
Oro Grande Underpass
Danny's Place
The Iron Hog
La Delta
End of the Trail
Elva's Malt Shop
Potapov's Service Station
Sage Brush Inn
White Orange Cafe & Motel
Watson's Richfield
Polly Gas
Helendale Store
Burden's Store & Post Office