Freeways & Highways
Highway 138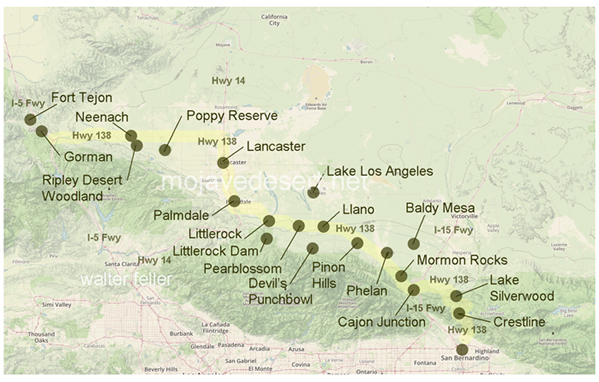 Fort Tejon (5 Fwy)
At the top of Grapevine Canyon, the adobe buildings of Fort Tejon State Historic Park guard a beautiful tree-lined meadow. Fort Tejon, at an elevation of over 3,500 feet, is situated in ...
Ripley Desert Woodland
Added to the State Parks in 1988, Ripley Desert Woodland is located a few miles west of the Poppy Reserve on Lancaster Road at 210th Street West. ...
California Poppy Reserve
The Antelope Valley Poppy Reserve is established to protect and perpetuate outstanding displays of native wildflowers, particularly the California Poppy, ...
Lancaster
The Southern Pacific Railroad built a line from San Francisco to Los Angeles which was completed in 1876. Along the line was a water stop located in what is now Lancaster. ...
Palmdale
Littlerock
Pearblossom
The name Pearblossom came from the multitude of local pear farms along the southern ridge of the Antelope Valley. A few still exist today, ...
Llano
Llano del Rio
Llano del Rio was a socialist colony established in 1915 and later abandoned in 1918 due to ...
Pinon Hills
Phelan
Spread across the desert foothills of the eastern San Gabriel Mountains, between elevations of 3,000 and ...
Mormon Rocks
These sandstone rock formations are named for the Mormon pioneers and freighters who would ...
Cajon Pass
Spanish soldier, Pedro Fages, first traveled through the pass in his search for deserters from the Spanish Army. Horse thieves such as ...
Silverwood Lake
High in the heart of the San Bernardino National Forest, at the edge of the high Mojave Desert, at an elevation of 3,350 feet above ...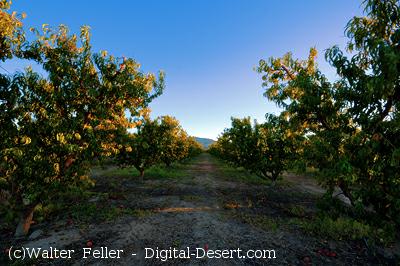 Pearblossom once was covered with fruit tree orchards, now long gone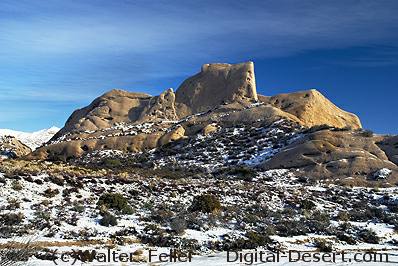 The Mormon Rocks in the Cajon Pass are one of the more noticeable landmarks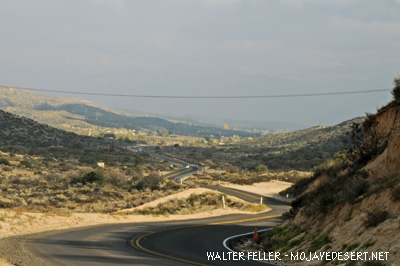 Highway 138 entering Summit Valley