Freeways & Highways
Highway 138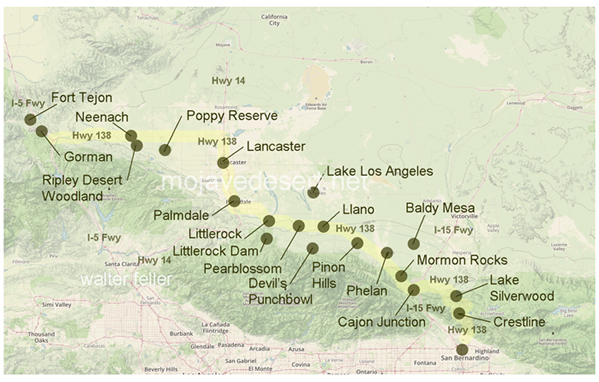 Fort Tejon (5 Fwy)
At the top of Grapevine Canyon, the adobe buildings of Fort Tejon State Historic Park guard a beautiful tree-lined meadow. Fort Tejon, at an elevation of over 3,500 feet, is situated in ...
Ripley Desert Woodland
Added to the State Parks in 1988, Ripley Desert Woodland is located a few miles west of the Poppy Reserve on Lancaster Road at 210th Street West. ...
California Poppy Reserve
The Antelope Valley Poppy Reserve is established to protect and perpetuate outstanding displays of native wildflowers, particularly the California Poppy, ...
Lancaster
The Southern Pacific Railroad built a line from San Francisco to Los Angeles which was completed in 1876. Along the line was a water stop located in what is now Lancaster. ...
Palmdale
Littlerock
Pearblossom
The name Pearblossom came from the multitude of local pear farms along the southern ridge of the Antelope Valley. A few still exist today, ...
Llano
Llano del Rio
Llano del Rio was a socialist colony established in 1915 and later abandoned in 1918 due to ...
Pinon Hills
Phelan
Spread across the desert foothills of the eastern San Gabriel Mountains, between elevations of 3,000 and ...
Mormon Rocks
These sandstone rock formations are named for the Mormon pioneers and freighters who would ...
Cajon Pass
Spanish soldier, Pedro Fages, first traveled through the pass in his search for deserters from the Spanish Army. Horse thieves such as ...
Silverwood Lake
High in the heart of the San Bernardino National Forest, at the edge of the high Mojave Desert, at an elevation of 3,350 feet above ...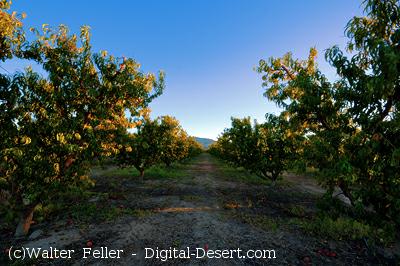 Pearblossom once was covered with fruit tree orchards, now long gone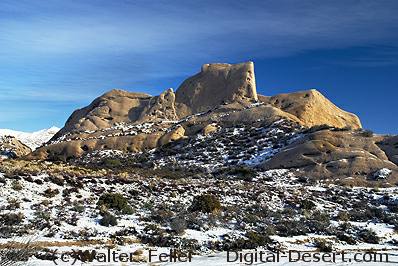 The Mormon Rocks in the Cajon Pass are one of the more noticeable landmarks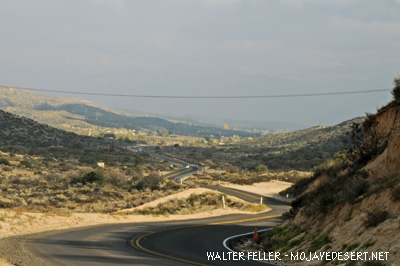 Highway 138 entering Summit Valley
---
CA Highway 138 - Blood Alley
Introduction:

Highway 138, also known as "Blood Alley," is a notorious stretch of road located in California. This highway has gained a reputation for its dangerous conditions and high number of accidents. In this document, we will explore the reasons behind this infamous nickname and delve into the various factors contributing to the hazardous nature of CA Highway 138.

1. Geographical Factors:

One of the primary reasons for the treacherous nature of CA Highway 138 is its geographical location. Situated in the rugged terrain of the San Bernardino Mountains and connecting the Antelope Valley with the Inland Empire, this highway passes through steep canyons and challenging landscapes. The winding roads, sharp curves, and narrow lanes pose significant challenges for drivers, especially during adverse weather conditions.

2. High Traffic Volume:

CA Highway 138 experiences heavy traffic flow due to its strategic location, connecting several major cities and towns in California. Combining local commuter traffic, commercial trucks, and tourists causes congestion and increases accident risk. The presence of large vehicles on this narrow highway adds danger.

3. Insufficient Infrastructure:

The infrastructure of CA Highway 138 has long been a concern for safety advocates. Many sections of this highway lack proper signage, guardrails, and lighting, further amplifying the risks motorists face. Inadequate maintenance and repair work on the road surface can also lead to hazardous driving conditions, including potholes, cracks, and uneven pavement.

4. Reckless Driving Behavior:

The dangerous reputation of CA Highway 138 is also linked to reckless driving behavior by some motorists. Excessive speeding, tailgating, and aggressive overtaking are common occurrences on this highway. Furthermore, the absence of law enforcement presence exacerbates these issues, as drivers may feel less inclined to adhere to traffic regulations.

5. Lack of Driver Awareness:

Another contributing factor to the hazardous nature of CA Highway 138 is the lack of driver awareness. Many motorists may not be fully prepared for the challenging conditions they will encounter on this road. Insufficient knowledge of the highway's dangers, coupled with distractions such as cell phones and other electronic devices, can lead to accidents and fatalities.

Conclusion:

In conclusion, CA Highway 138, also known as "Blood Alley," has earned its notorious reputation due to a combination of geographical factors, high traffic volume, insufficient infrastructure, reckless driving behavior, and a lack of driver awareness. Both authorities and motorists must address these issues to improve the safety of this highway. Increased investment in infrastructure, enhanced law enforcement presence, and educational campaigns can all contribute to reducing the risks associated with CA Highway 138, making it a safer route for all travelers.
---
10-28-2023