Kelso Depot
Exterior Front of Kelso Station
click the photo to continue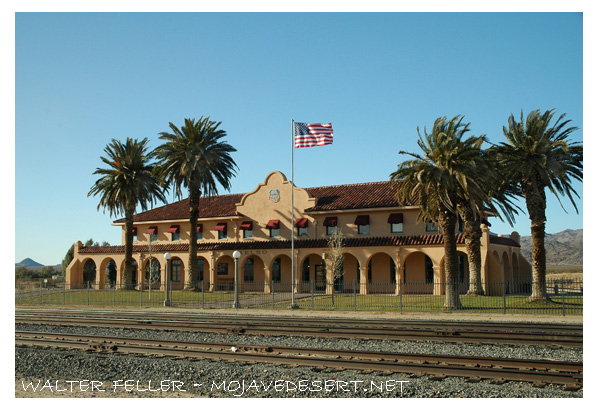 The Union Pacific Railroad's Kelso station was established in the Mojave desert of eastern California in 1905 when the San Pedro, Los Angeles & Salt Lake Railroad completed its line connecting Salt Lake with the west coast port of Los Angeles. .

The original, single-story, lunchroom at Kelso, constructed in 1905, had burned in 1922. The timing was perfect for the remote desert town to get a fashionable mission revival-style station. The Union Pacific had just a few years earlier, at its chairman R.S. Lovett's recommendation, decided to adopt this new style for its depots in the area; we carefully considered and adopted at important stopping places on the L.A.& S.L in California and Nevada, such as division terminals and other places where there are dining stations, a mission style of architecture and layout where we have occasion to construct or reconstruct station buildings. It is a frame, stucco style of construction and adds very little to the expense but a great deal to the appearance of the place." Stiff competition with the Santa Fe Railroad was of prime concern in this region. As the UP President Carl R. Gray had explained to Mr. Lovett when discussing Yermo, California, some 73 miles from Kelso:
Yermo is only a short distance away from the Santa Fe joint track where that line is equipped with such good station facilities … that our own facilities are in marked contrast thereto. The comparison of our facilities with those of the Santa Fe at Barstow, where all through trains stop has always been the subject of criticism by passengers.
In 1916 the railroad dropped "San Pedro" from its name and it was then known as the Los Angeles & Salt Lake (L.A. & S.L.).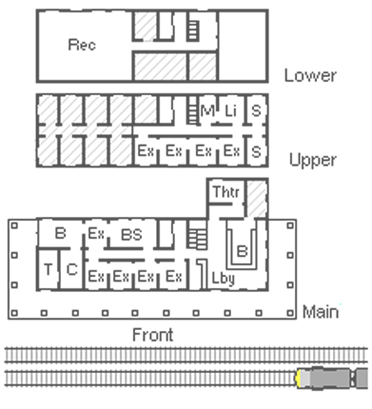 Building Exterior
Front of depot
Arcade from east
Arcade from west
Tracks from front
Main Floor
Lobby
Beanery
Theatre
Exhibit room
Exhibit room
Exhibit room
Exhibit room
Bookstore
Exhibit room
Baggage room
Ticket/Telegraph Office
Conductor's Office
Second Floor
Exhibit room
Exhibit room
Exhibit room
Exhibit room
Sleeping quarters
Sleeping quarters
Library
Map room
Basement
Meeting Room