DEATH VALLEY WILDLIFE > Fish


Fish

Amargosa Pupfish
Cyprinodon nevadensis amargosa
Found in the Amargosa River northwest of Saratoga Springs.

Saratoga Pupfish
Cyprinodon nevadensis nevadensis
Endemic to Saratoga Springs at the south end of Death Valley.

Devil's Hole Pupfish
Cyprinodon diabolis
Endemic to Devil's Hole in the Ash Meadows Spring Complex; A federally endangered listed species.

Salt Creek Pupfish
Cyprinodon salinus salinus
Endemic to Salt Creek in central Death Valley. Most active during spring mating season.

Cottonball Marsh Pupfish
Cyprinodon salinus milleri
Endemic to Cottonball Marsh on the western side of central Death Valley; A threatened species in California.

Western Mosquito Fish
Gambusia affinis
Introduced into the Furnace Creek irrigation ditches and ponds.



Pupfish

Tiny pupfish are ther remnants of- and living clues to- Death Valley's once wetter past. For hundreds of thousands of years ending 10,000 years ago, Death Valley contained large lakes fed by abundant rainfall and meltwater from receding ice age glaciers in the Sierra Nevada. Climate change gradually dried up the valley lakes and forced most life- whether pupfish or human- to congregate near permanent water sources or to adapt to dry conditions. Since then desert pupfish ave survived, living in isolated-springs as warm as 90F and in streams whose water can be 5 times as salty as the ocean water. Rarest of the all, the Devils Hole pupfish is on the endangered species list. Further decreases in available water threaten its future. Death Valley offers us an opportunity to understand how vital fresh water is to our planet, which is a closed water system.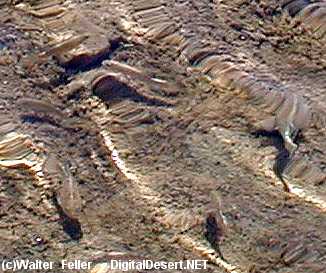 Pupfish dart to and fro in shallow Amargosa River


Also see:


DEATH VALLEY
Mammals
Reptiles
Amphibians
Fish