Parks & Forests:
San Gabriel Mountains National Monument
Big Pines
Mt Baden-Powell
One of the highest peaks in the San Gabriel Mountains, tremendous views, fascinating trees and a good trail make ...
Mountain Hiking Trails
These trails are only a few of the many, varied hiking, cycling and equestrian experiences you can enjoy in the Angeles National Forest.
Pacific Crest Trail
The vistas from the trail in these mountains include the Los Angeles Basin and Mojave Desert. To the west of Mt. Baden-Powell and the Angeles Crest National Scenic Byway, it descends to Highway 14 at Agua Dulce, then ...
Angeles Crest Highway
The scenic byway ascends and winds its way through 66 miles of the Angeles National Forest, ...

Points of Interest
Bighorn Mine
Grand-daddy gold mine of the San Gabriels
Table Mountain Campground
Table Mountain is unique and beautiful. Dynamic views of the high desert including the peacefulness of the forest. Walk around the campground and enjoy this wonderful location.
Jackson Lake
Trout fishing and canoeing along with some mighty fine picnic spots are highlighted in this tour of a small San Gabriel mountain lake.
Devil's Punchbowl
Rock formation along the San Andreas fault. Quite different from the nearby forest.
Vincent's Cabin
Secluded remains of 1870's cabin
Big Rock Creek
From Valyermo up the canyon to Vincent Gap at the trailhead to Mount Baden-Powell
Ball Flat
Interesting flats area.

Valyermo
Crossroads community and Ranger Station.
Inspiration Point
Grassy Hollow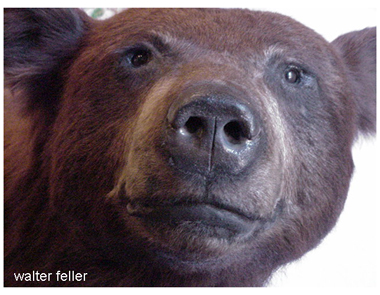 To the millions of Los Angeles area residents who live within an hour"s drive and to visitors from all over the world, the Angeles National Forest provides a thousand square miles of open space and a variety of recreation opportunities year around.

In contrast to the nearby city, the Angeles offers natural environments, spectacular scenery, developed campgrounds and picnic areas, swimming, fishing, and the solitude of quiet wilderness areas. Winding throughout the Forest are trails for hikers, equestrians, mountain bikers and off-highway vehicle enthusiasts.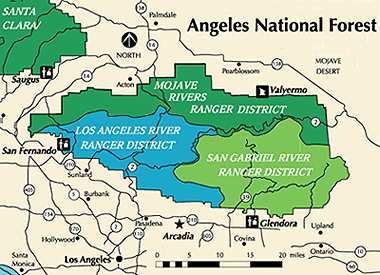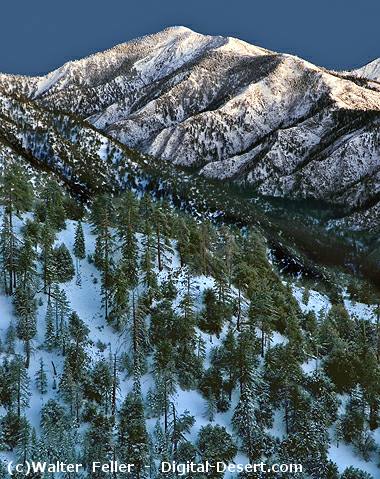 Ecology
Upper San Gabriel Mountains
This subsection comprises the higher and cooler parts of the San Gabriel Mountains. The climate is ...
San Gabriel Mountains
This subsection comprises the lower and warmer parts of the San Gabriel Mountains, which are between the San Andreas fault on the north-northeast and the ...
Geology
Transverse Ranges
The Transverse Ranges are an east-west trending series of steep mountain ranges and valleys. The east-west structure of the Transverse Ranges is oblique to ...
Mojave Desert
There are two important fault trends that control topography a prominent NW-SE trend and a secondary east-west trend (apparent alignment with Transverse Ranges is significant). ...
San Andreas Fault
The San Andreas fault forms a continuous narrow break in the Earth's crust that extends from northern California southward to Cajon Pass near San Bernardino. ...
Forest Campgrounds
San Gabriel Mountains Summit Guide