Water in the Desert:
Desert Springs, Hot Springs, Oases & Waterholes
A spring is the result of an aquifer being filled to the point that the water overflows onto the land surface. There are different kinds of springs and they may be classified according to the geologic formation from which they obtain their water, such as limestone springs or lava-rock springs; or according to the amount of water they discharge-large or small; or according to the temperature of the water-hot, warm, or cold; or by the forces causing the spring-gravity or artesian flow. - (USGS)

Also see : Hot Springs
49 Palms Oasis
Water rises into pools formed by large boulders in a steep and narrow canyon. Fan palm trees ...
Ash Meadows
Warm water from underground bubbles up through sand into clear spring pools. Silvery blue ...
Badwater Springs
Badwater is the lowest elevation in the western hemisphere you can drive to. The actual lowest point, ...
Bitter Springs
Cottonwood Springs
Once flowing at 1,500 gallons per minute the springs located in the southern portion of ...
Crystal Springs
Near Mitchell Caverns in the Providence Mountains, high up in a canyon is ...
Deep Creek Hot Springs
The landscape surrounding Deep Creek is unique in a southern California context, and ...
Dirty Sock Springs
There are several theories as to the origin of the name, but come on, ...
Horse Thief Springs
Horse Thief Spring was named by surveyors for the legendary Chief Walkara ...
Ibex Springs
The history of the area as a whole is not a continual tale of ...
Lamel Springs
A short walk off the Pacific Crest Trail as it ascends Mt. Baden-Powell is Lamel Springs
Lost Palms Oasis
Lost Palms Oasis is a native fan palm oasis with over 110 palm trees. The trees are located in ...
Marl Springs
Located six miles northeast of Kelso, San Bernardino County, the post at ...
Oasis of Mara
The oasis was first settled by the Serrano who called it Mara, meaning ...
Old Woman Springs
Owl Hole Spring
One of the most remote locations in Death Valley.
Piute Springs
A narrow ribbon of willows, cottonwoods, and rushes thrive along a half-mile section of ...
Post Office Spring
South of Ballarat is Post Office Spring. Mesquite grows thick and plentiful nearby ...
Rabbit Springs
The setting of Rabbit Springs is a worn scarp south of ...
Resting Springs
Rock Spring
An official Army post, Camp Rock Spring in the Mojave Desert, on the road from ...
Salt Creek (Springs)
Saratoga Springs
Several springs feed three large open water ponds approximately ...
Soda Springs
(Zzyzx) - Soda Springs is located at the western edge of Soda Lake which lies at ...
Tecopa Hot Springs
A "Primary Hot Springs". Mineral water geothermally heated by by magma chambers which exist ...
Warm Springs
The waters of Warm Spring created an oasis that has long attracted ...
Warm Springs (Saline Valley)
Warm Springs and Palm Spring, in the Saline Valley, have been popular ...
Wild Hot Spring
-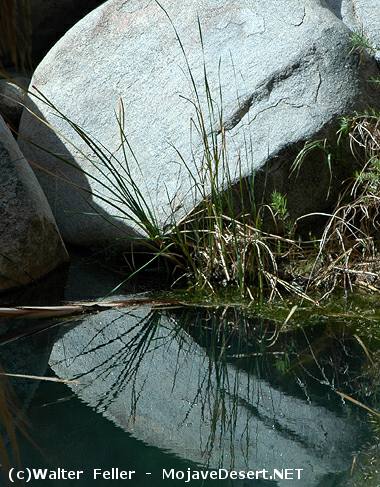 NATURAL FORMATIONS
Rock Formations
Sand Dunes
Dry Lakes
Water Sources
Craters
Arches & Bridges
Views & Vistas
Geology