Wilderness - MAP
Piute Mountains >> Map #33

Piute Mountains Wilderness

SIZE: 36,840 acres

LOCATION: San Bernardino County; 17 miles west of Needles, California

NATURAL RESOURCES: This wilderness encompasses the Piute Mountains. This small range of mountains is bisected by an extensive system of connecting washes. The Mojave Indians refer to these mountains as "Kwikantsoka" and consider them sacred.


ACCESS: To access this wilderness, exit Interstate 40 at Mountain Springs Road (17 miles west of Needles) and travel south on Route 66. The wilderness boundary coincides with the southern edge of the highway's right-of-way.


Geomorphic Province : Mojave Desert
Ecosection : Mojave Desert
Ecosubsection : Providence Mountains - Lanfair Valley, Piute Valley - Sacramento Mountains

Native Culture : Mohave, Chemehuevi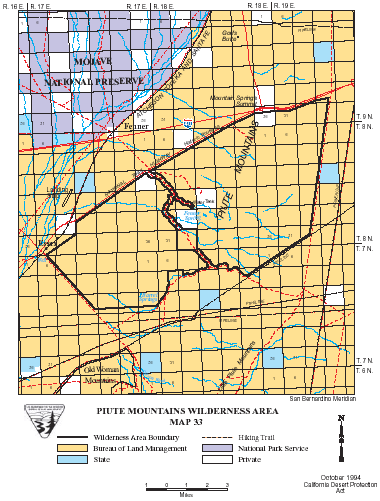 ..