Death Valley Photos - Death Valley Ghost Towns
Rhyolite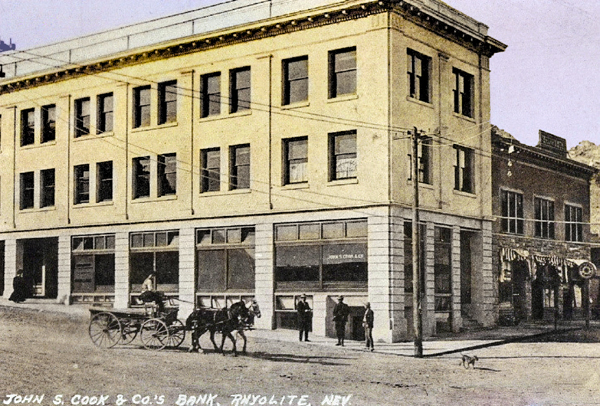 ---
The ghost town of Rhyolite is located in Nye County, Nevada. On the eastern border of Death Valley National Park, it lies in the Bullfrog Hills, about 120 miles (190 km) northwest of Las Vegas.

Shorty Harris and E. L. Cross, who prospected in the area in 1904, created this ghost town's origins. They found quartz all over a hill, and as Shorty describes it, "... the quartz was just full of free gold... it was the original bullfrog rock... this banner is a crackerjack"! He declared, "The district is going to be the banner camp of Nevada." At that time, there was only one other person in the entire area: Old Man Beatty, who lived five miles away on a ranch with his family.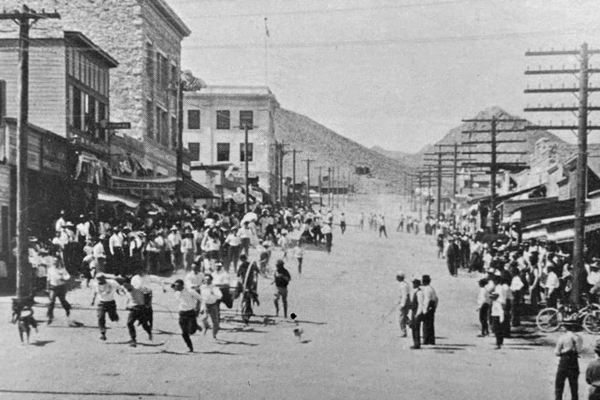 In early 1905, this prospecting discovery in the hills led to the town's establishment as one of several mining camps. It wasn't long before several camps were set up, including Bullfrog, the Amargosa, and Jumpertown, a settlement between them. Rhyolite is a townsite named after the silica-rich volcanic rock found nearby.

Gold seekers, developers, miners, and service providers flooded the Bullfrog Mining District during the gold rush. Many people settled in Rhyolite due to the Montgomery Shoshone Mine, which was the region's largest producer. Montgomery Shoshone Mine was the most promising, which prompted everyone to move to Rhyolite.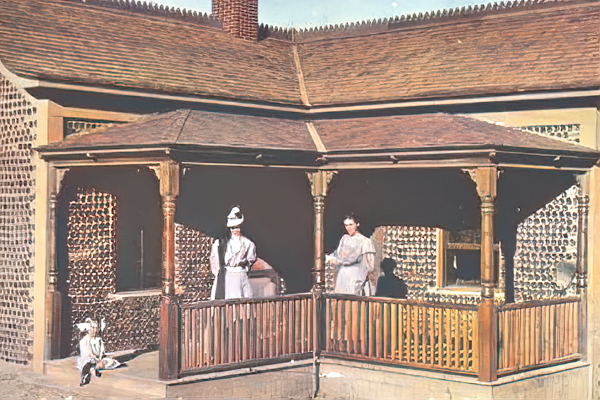 The town boomed immediately, with buildings springing up everywhere. One building, the Cook Bank, cost $90,000 and stood three stories tall. Stock exchanges and trade boards were established. Women came from as far away as San Francisco to work in the red light district. Hotels, stores, a school for 250 children, ice plants, electric plants, foundries, machine shops, and even a miner's union hospital were available. Sports, dances, basket socials, whist parties, tennis, a symphony, Sunday school picnics, basketball games, Saturday night variety shows, and pool tournaments were all part of the town's social life. Tom T. Kelly constructed a Bottle House out of 50,000 beer and liquor bottles during that same year.

As a result of Bob Montgomery's boast that he could take $10,000 in ore a day from the Montgomery Shoshone mine, the mine became nationally known. A reported 2 to 6 million dollars was paid for it by Charles Schwab in 1906. Industrialist Charles M. Schwab bought the Montgomery Shoshone Mine in 1906 for a reported 2 to 6 million dollars. He also invested heavily in infrastructure, including piped water, electric lines, and railroad transportation.

Rhyolite had electric lights, water mains, telephones, newspapers, a hospital, a school, an opera house, and a stock exchange by 1907. In 1907–08, the town's peak population was between 3,500 and 5,000. In April 1907, electricity was provided to Rhyolite, and a mill for handling 300 tons of ore a day was built at Montgomery Shoshone mine by August. The plant was comprised of over a dozen cyanide tanks, a crusher, three giant rollers, and a reduction furnace.

Almost as fast as it rose, Rhyolite declined. Raising development capital became harder after the 1906 San Francisco earthquake. In 1907, Rhyolite suffered a financial panic that was deemed the beginning of the end for the town. Production fell after the richest ore was exhausted. An independent study was ordered in 1908 by investors concerned that the Montgomery Shoshone Mine was overvalued. The company's stock value crashed after the study's results proved unfavorable, further limiting funding.

Mines closed, and banks failed over the next few years. Many out-of-work miners moved elsewhere. There were no newspapers in the town; by 1910, there were just over 600 residents, and the mill produced under $250,000. The mine was operating at a loss by 1910 and closed in 1911. On March 14, 1911, it was voted that the Montgomery Shoshone mine and mill should be closed.

The town was finally darkened when its power was turned off in 1916. Almost no one remained by 1920.

Today, Rhyolite still retains a few remnants of its former glory days. A part of the old jail and the walls of the 3-story bank building are still standing. Train depot (privately owned) and Bottle House are two of the few remaining buildings in the town. Paramount Pictures restored the Bottle House in January 1925.

Rhyolite and its ruins became a tourist attraction and a movie setting after 1920. Most of its buildings collapsed, were salvaged for building materials, or were moved to Beatty or other nearby towns, although the railway depot and a house comprised primarily of empty bottles were repaired and preserved. In the years 1988 to 1998, three companies operated a profitable open-pit mine near Rhyolite at the base of Ladd Mountain.

The Goldwell Open Air Museum is located on private property just south of the ghost town, which is managed by the Bureau of Land Management. Furnace Creek Visitor Center is 35 miles from Rhyolite. From Highway 374, take a paved road heading north (left) into the center of town. Rhyolite is located on federal and private lands. It is not within Death Valley National Park.
---
Cook Bank
Train Depot
Montgomery - Shoshone Mine
Tom Kelly's Bottle House
Train Depot
History of Rhyolite
Bullfrog
Beatty, Nevada
History of Beatty

Shorty Harris
Goldwell Museum

Porter Brothers