Community > Nevada
Beatty, Nevada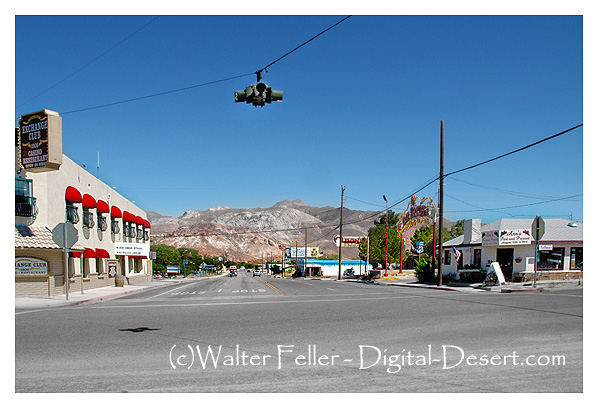 click for photo gallery

Population, 1,154. Elevation 3,304. A few miles southeast of nowhere, so its easy to find. Nowdays, a gateway to Death Valley, Beatty started out as a supply station for the Bullfrog Mining District.
Map of Beatty
Beatty Weather
Beatty Museum
Also see:

Rhyolite Ghost Town
At that time there was only one other person in the whole area: Old Man Beatty who lived in a ranch with his family five miles away. ...

Railroad History in the Mojave Preserve
The line never did reach the coast or Tonopah, stopping just short of Beatty, Nevada, but served as the "neighborhood railroad" for much of the desert, ...

Skidoo - Death Valley National Park
Plans had already been made for an auto line from Beatty, a stage line seemed definite, application had been made for a post office and with its high ...

Amargosa River
The Amargosa River originates in the mountains surrounding Beatty, Nevada, flows through the Amargosa Desert region, and terminates at Badwater in Death ...

Vanderbilt Mine
Eventually, he interested M. M. Beatty, who had an Indian wife, a member of the same "family group" as Bob Black, and after whom Beatty, Nevada is named. ...

Western Shoshoni Myths
Beatty, Nev.; Tom Stewart, Shoshoni, age about 70. Ash Meadows, Nev., where Shoshoni and Southern Paiute were somewhat mixed, but myths claimed to be ...

Greenwater
On September 7, 1907, the Beatty Bullfrog Miner reported that the Green water Miner had stopped publication and that a hundred people were still at ...

Jimville: A Bret Harte Town - Land of Little Rain - Mary Austin
Says Three Finger, relating the history of the Mariposa, "I took it off'n Tom Beatty, cheap, after his brother Bill was shot." ...

Leadfield Ghost Town
The road winds up through the mountain passes for over fifteen miles from Leadfield to the Beatty highway, and climbs from an elevation of 3400 feet at the ...

Western Shoshoni Myths
Desert & Mountain Fine Art Photo Prints, Shoshone Indians · Western Shoshoni Myths: Beatty, Nevada. The Origin of People. Every day Coyote met a girl. ...


Beatty Historic Photos