Joshua Tree National Park - Nature Trail:
Skull Rock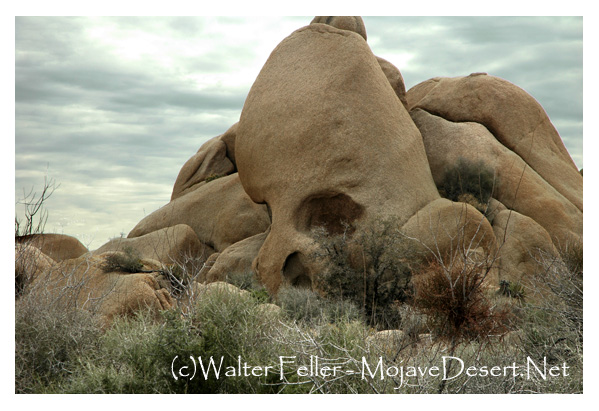 Located at the east end of Jumbo Rocks campground the Skull Rock can be easily seen and accessed from Park Blvd.
Nature Trail
This 1.7 mile loop trail has interpretive signs along the trail explaining the rich biological diversity of the Mojave Desert.

Desert Diversity
Deserts sometimes appear lifeless to us. By taking time to look and discover an active world of interconnected plants and wildlife.

Each species along this trail is an irreplaceable treasure of our earth's biological diversity. All life--from wood rat to Joshua tree--is needed to balance a global ecology system. In John Muir's words:

"When we try to pick out anything by itself, we find it hitched to everything else in the universe."
The Mojave Yucca
Although related to the Joshua tree, the Mojave yucca, (Yucca schidigera) developed ...
A Most Successful Desert Plant
The creosote bush (Larrea tridentata) is well adapted to arid desert conditions. Its roots are ...
Cotton in the Desert
The cotton thorn (Tetradymia axillaris) survives desert dehydration by modifying its ...
Cactus Propagation
The Pencil Cholla (Opuntia ramosissima) grows two to five feet high, generally in ...
Rocks and Plants
More than 80 million years ago the granite rock formations you see here were ...
Goatnut, Deernut and Coffeeberry
These are some of the common names for the Jojoba (Simmondsia chinensis), ...
Red Top Buckwheat
Wild Buckwheat (Eriogonum fasciculatum) is a low spreading, green leaved plant ...
A Delicate Balance
A member of the cypress family, the California Juniper (Juniperus californica) grows on ...
A Desert Pine Tree
Probably the best known desert nut is produced by the Pinyon Pine (Pinus monophylla). The chunky ...
What a Difference a Little Water Makes
The desert comprises many different environments, Depending on elevation, ...
A Mojave Desert Oak
You know you are at higher desert elevations when you find Pinyon Pine, Juniper, and ...
Paperbag Bush
The Paperbag Bush (Salazaria mexicana) is a handsome, rounded bush with many inflated ...
Wood Rats
Wood rats (Neotoma sp.) are attracted to shiny, metallic objects but will frequently ...


next >

Skull Rock

It began long ago when rain drops accumulated in tiny depressions and started to erode the granite. As more rock eroded, more water accumulated, leading to more erosion until, as time passed, two hollowed-out eye sockets formed and the rock began to resemble a skull.