Desert Ecology - Joshua Tree National Park:
Desert Ecosystem
Deserts host plants and animals living in what strikes many humans as oppressive environments. Solar energy that green plants convert into food fuels life here. Although in most ecosystems plants compete for sunlight, here most plants are adapted to minimize the effects of too much solar energy.

Annuals compress their life cycles and go dormant as conditions grow unfavorable. Sudden carpets of wildflowers mark their waking from dormancy as seeds, like time travelers, quickly germinate, flower, and renew their species before before seasonal moisture dries up once again.

Patient perennials ply an alternate strategy: Joshua trees flourish in moist periods, then bide their time in long dry periods.

Many animals get their energy by eating plants, but desert plants give up the fruit of their production very reluctantly. Sharp spines and chemical-laden leaves discourage plant-eaters. The kangaroo rat avoids these obstacles by eating seeds that, while safe to eat, can be hard to find. Many are small and look like grains of sand. With sensitive front paws a kangaroo rat sifts sand to find seeds by touch, eats them and transforms them into animal tissue. The plant's solar energy flows through the ecosystem as kangaroo rats, and other herbivores like jackrabbits, fall prey to carnivores like great horned owls, coyotes, bobcats or snakes.

A large, productive plant like the Joshua tree is the focal point for a complex community of wildlife. Some birds nest in the living tree. Others feed on the resident insects. Discarded limbs or the tree's toppled body provide homes for the yucca night lizard and termites. Even in death, the Joshua tree's stored solar energy is is converted by termites into animal tissue. Yucca night lizards may then eat the termites but fall prey themselves to an owl or snake. As the Joshua tree continues to decompose, stinkbugs may nibble on their home! And so the Sun's energy keeps moving through the fascinating life of the desert.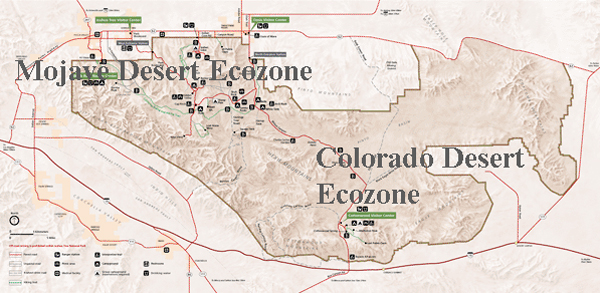 There are two types of desert within Joshua Tree National Park: the Mojave and the Colorado. In fact, some ecologists say the park is a transition zone between the two. As you go from Twentynine Palms to the South Entrance, you begin to see Joshua trees at the 3,000-foot elevation level. Joshua trees indicate the Mojave Desert.

In the Pinto Basin, plants of the Colorado Desert appear: Bigelow (jumping) cholla and ocotillo. South of the Cottonwood Visitor Center even more distinctive Colorado Desert plants include palo verde, chuparosa, and ironwood.

Nearly three quarters of these parklands have been designated by Congress for permanent protection as wilderness, The park's highest value lies in these landscapes -- vast stretches of arid landforms, vistas, and desert habitat that offer open space, refuge, and recreation for southern California's teeming population, visitors from the U.S. and the rest of the world.


Source:NPS - Joshua Tree National Park Guide


Also see:

Natural Science: Barren Desert - Joshua Tree
Or maybe you see the desert for what it is- a diverse, thriving ecosystem. Deserts are not deserted, but teeming with life- insects, amphibians, reptiles, ...

Mojave Preserve - California Mojave Desert
... affecting earth materials are fundamental to interpreting the ongoing development of the Mojave Desert landscape and the ecosystem it supports. ...

Human Impacts on the Mojave National Preserve
...Only time will show how the whole ecosystem, or parts of it, will respond to the combined effects of climate change and human interactions. ...

Big Morongo Canyon Preserve
The desert springs ecosystem and Mojave Riparian Forest here are considered to be some of the best in California. In addition, the area is of botanical ...

Wildlife of Yosemite National Park
The most serious current threats toYosemite's wildlife and the ecosystems they occupy include loss of a natural fire regime, exotic species, air pollution, ...

Creosote Bush Scrub - Desert Habitats
Designated an endangered species, desert tortoises and their habitat are ...

Desert Wash - Desert Habitats
Roadside water runoff can also create a miniature habitat of its own. The sacred datura, also called jimson weed or thorn apple, thrives in this water ...

Cactus-Yucca Scrub - Desert Habitats
... The greenish-gray Mojave rattlesnake blends in easily with this habitat. ...

Creosote bush
... a dominant or codominant member of most plant communities in the Mojave, Sonoran, and Chihuahuan ...

Juniper - California Juniper
California juniper is codominant primarily ... Associates other than those previously mentioned vary between habitats. ...

Pinyon-Juniper Woodland - Desert Habitats
... This habitat includes sagebrush, goldenbush, wildflowers such as Indian paintbrush, and Mojave prickly pear ...


Mojave Desert Ecozone
A high (over 3,000 feet) desert with more annual rainfall than it's low desert counterpart, home to extensive stands of Joshua Tree.
Colorado Desert Ecozone
Habitat to creosote, ocotillo and cholla, the lower, drier Colorado occupies the eastern portion of the park.
Desert Food Chains
How it all works together, a sequence of plants, herbivores and carnivores, through which energy and materials move within an ecosystem. ...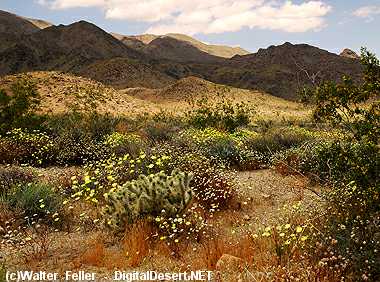 Wildflowers awaken from dormancy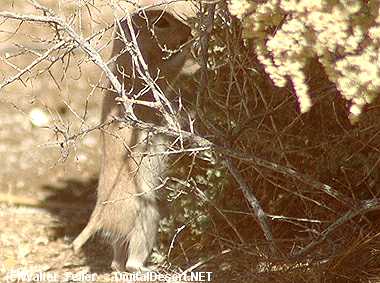 Round-tailed rat nibbles at cattle spinach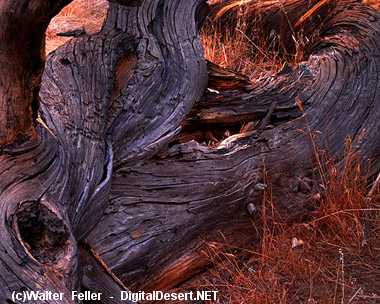 A dead log makes a fine home for some animals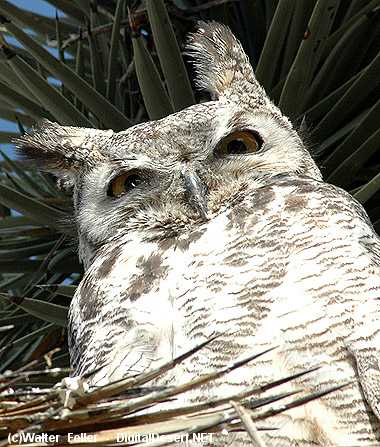 Great horned owl waits for evening

More information:

Mojave Desert Geomorphic Province

California Desert & Mountains Ecological Region

Mojave Desert Ecosection

Ecosystems & Habitats
Tree & shrub dominated environments