Geology:
Geomorphic Provinces
Map Index
California's geomorphic provinces are naturally defined geologic regions that display a distinct landscape or landform. Earth scientists recognize eleven provinces in California. Each region displays unique, defining features based on geology, faults, topographic relief and climate. These geomorphic provinces are remarkably diverse. They provide spectacular vistas and unique opportunities to learn about earth's geologic processes and history.

Note: Although the Mojave Desert resides chiefly in its own geomorphic province, the Mojave's botanical boundaries overlap with neighboring regions to varying degrees. By examining these regions we gain a better understanding of how and why the Mojave Desert is what it is.
Mojave Desert

The Mojave is a broad interior region of isolated mountain ranges separated by expanses of desert ...

Basin and Range

The Basin and Range is the westernmost part of the Great Basin. The province is ...

Transverse Range

The Transverse Ranges are an east-west trending series of steep mountain ...

Colorado Desert

The Colorado Desert province is a low-lying barren desert basin, about 245 feet below ...

Sierra Nevada

The Sierra is a tilted fault block nearly 400 miles long. Its east face is a ...
Geology Book Store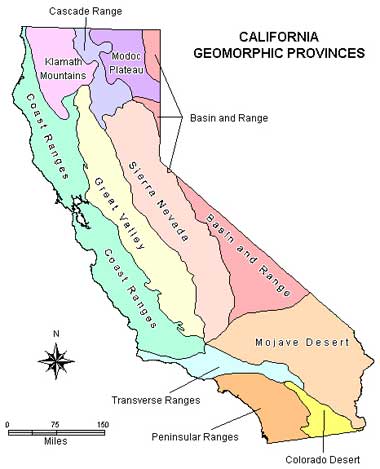 Earthquakes & Faults
California straddles the juncture of two great crustal plates: the Pacific plate and the North American plate. ...
San Andreas Fault
The presence of the San Andreas fault was brought dramatically to world attention on April 18, 1906, when sudden ...
Garlock Fault
The Garlock Fault is the defining fault between the Mojave Desert and Sierra Nevada, Basin and Range geomorphic provinces.


source - California Geologic Survey