Death Valley Regional Geology Guide :
Cottonwood Mountains
Ubehebe Crater
CM1. Location/Access:
(37o 00.661'N, 117o 27.283'W) Ubehebe Crater is a very popular site with easy paved access from the east and south. It is 56.5 miles north of Furnace Creek, 45.5 miles north of Stovepipe Wells, and 8.2 miles west of Scotty's Castle. It is located on all maps and is well marked. It is at the northern end of the paved road system in Death Valley.

Best Time: Anytime, all year. Expect wind.



Geology: Ubehebe Crater is the largest of several maar craters in the immediate area. A small quantity of basaltic magma encountered underground water producing a series of phreatic eruptions that are recorded in the black layers of pyroclastic ejecta seen across the crater from the parking lot. The next largest crater, Little Hebe, can be reached by a short, steep walk up to the right (south). Ubehebe itself is about ˝ mile across, 500 feet deep, and is early Holocene in age (Sharp and Glazner, 1997). The colorful rocks that make up the crater walls below the basaltic ejecta are sedimentary deposits of fluvial and/or lacustrine origin belonging to the Navadu formation and range from 6.2 to 12.1ma (Klinger, 2001). Note that the banded orange layers across the crater are in fault contact with the yellow rocks on the left. Ubehebe Crater and its sister craters sit near the junction of several fault zones. The Tin Mountain fault extends southward from here forming the right hand slope of Tin Mountain. The valley extending south from the craters towards the Racetrack (Site CM2) is a graben and the Tin Mountain fault forms the east boundary of that structure. The main trace of the Death Valley Fault zone, which trends north-south, lies just to the east of the craters and is quite visible as a chain of pressure ridges as one drives north towards Ubehebe from the south. It may have last moved within the past 300 years (Klinger, 2001). South of the craters lies the Oligocene-Miocene Ubehebe Crater fault (which is normal) and the Ubehebe thrust (Wernicke, et. Al., 1993). These faults lie between the craters and the base of Tin Mountain and be reached by a moderate hike from the Racetrack Road about 4 miles south of Ubehebe Crater. Just north of the crater area are the Pleistocene "Lake" Rogers deposits. These light colored silt and sand deposits were probably laid down about 15,000 years ago and most likely represent a marsh or meadow (Klinger, R. E., 2007).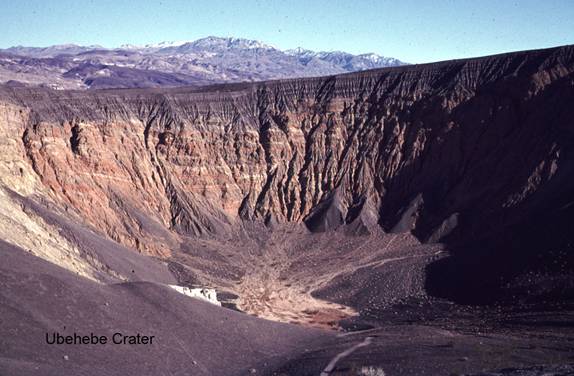 Ubehebe Crater
Maar volcanoes formed by steam and gas explosions around 3,000 years ago created when hot magma reached ...

Formation of Ubehebe Crater
At the edge of Ubehebe Crater, you'll be greeted by an eerie, surreal landscape. All is quiet now, but imagine yourself transported to ...