Death Valley:
Scotty's Castle Area
Places to see and things to do in the Scotty's Castle area of Death Valley
Scotty's Castle

Prospector "Death Valley Scotty" claimed this elaborate Spanish-style mansion was built by gold from his fictitious mine. In reality, it was the 1920s vacation home of his wealthy friends. Today, living history tours of the castle's richly furnished interior are given by costumed park rangers.

Ubehebe Crater

More than 3000 years ago the desert silence was shattered by a massive volcanic explosion caused by the violent release of underground steam pressure. When the cinders and dust settled, this 600 feet deep crater remained. Although easily visible from the paved road, hikers may want to circle the crater rim to see smaller craters.

The Racetrack

Rocks mysteriously slide across the dry lakebed of the Racetrack, leaving behind long tracks for visitors to ponder. A high-clearance vehicle is needed to traverse the 27 miles of rough dirt road, but ask at a ranger station for current road conditions.

Eureka Dunes

Rising majestically nearly 700 feet, these are the highest dunes in California. Isolated from other dunes, they are an evolutionary island, home to rare and endangered species of plants and animals. To give them extra protection, the dunes are off limits to sandboarding and horseback riding.

Teakettle Junction

Elevation of 4,150 feet (1,260 m). Teakettle Junction is the junction of Hunter Mountain and Racetrack roads approximately 6 miles north of Racetrack Playa and 21 miles from Ubehebe Crater.

Lost Burro Mine

In 1907 Bert Shively's burro decided he'd had it and went to get himself lost. Bert caught up with him in a remote canyon and picked up a rock to get his attention.
Source and references: NPS and others

Clickable Scotty's Castle Area Map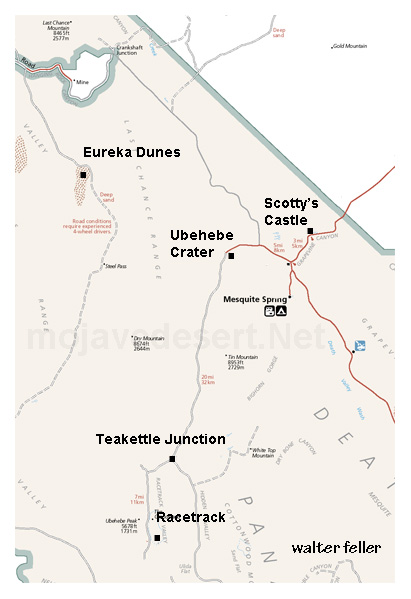 Click here to zoom out to the Death Valley Map