Dry Lakes
Broadwell Dry Lake
Click the photo for the gallery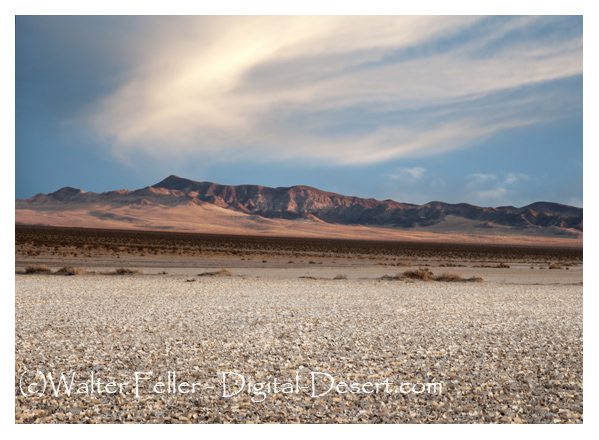 Broadwell Valley was named for a Mr. Broadwell, a prospector in the area about 1905. Also called Ludlow Valley. The 4.5 mile long Broadwell dry lake also known as Tonopah dry lake. It lies 8 miles north of Ludlow. Broadwell was a railroad siding for the Tonopah & Tidewater Railroad located 10.5 miles north of Ludlow on the lake. Broadwell Valley is flanked by the Bristol Mountains to the east and the Cady Mountains to the west. The Broadwell Lake Fault is a 20 mile long seismic fault in this area. Broadwell Mesa is an area lying 13 miles north-northeast of Ludlow and 7.5 miles east-northeast of Broadwell Lake.

ref: Mojave Desert Dictionary - Pat Schoffstall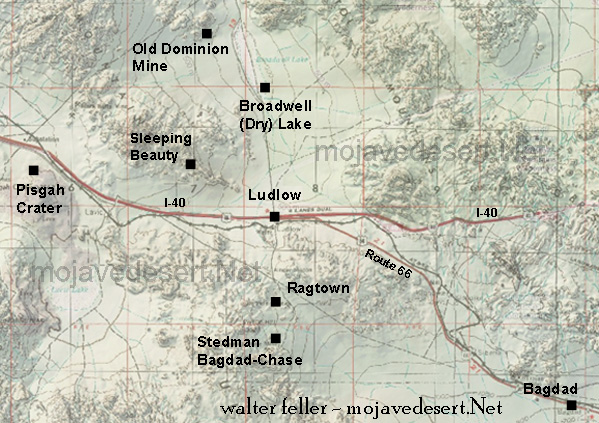 Ludlow, California
The town started as a water stop for the Atlantic and Pacific Railroad in 1883. Ore was found in the nearby hills, leading to a boom. ...
Old Dominion Mine
Copper and some gold were dug out of the Old Dominion mine. The view of Broadwell dry lake is incredible. ...
Dry Lake/Playa Formation
A playa is a dry, vegetation-free, flat area at the lowest part of an undrained desert basin. It is a location where ephemeral lakes form during wet periods, and is underlain by stratified clay, silt, and sand, and ...
Tonopah & Tidewater Railroad
Another desert railroad flanked the western boundary of Mojave National Preserve and cut across a part of its northwest corner. That was the ...
Bullion Mountains - Bristol Lake (322Ao)
This subsection includes alluvial fans, basin floor, volcanic flows, and mountains and hills in a linear depression that stretches from Troy Lake southeastward to Bristol Lake and beyond.