San Gabriel National Monument (Angeles National Forest)
Mt Baden-Powell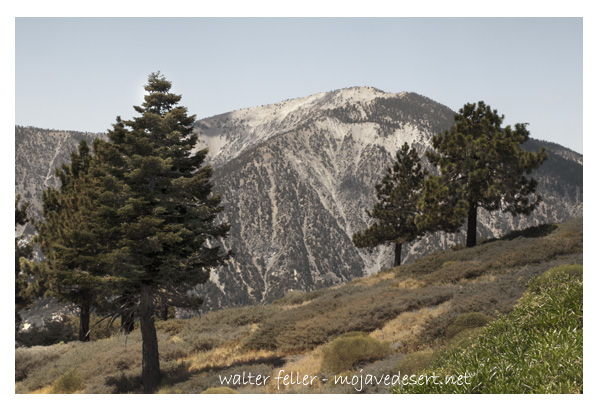 Elevation 9,399'

One of the highest peaks in the San Gabriel Mountains, tremendous views, fascinating trees and a good trail make this a most popular hike. A sign at the S.W. edge of Vincent Gap indicates the trail beginning. There is open forest all the way, although the trees become smaller, more twisted and gnarled and more scattered as you approach the summit.

First the trail passes through oak, Sugar Pine, Jeffrey Pine and a few cedars. Higher up the trail, Lodge Pole Pine begins to predominate, and finally, near the top, the rare and picturesque Limber Pines are found. As much as 2,000 years old, these Limber Pines were discovered in 1962 by Angeles National Forest Supervisor Sim Jarvi. Near the top a small grove of these unusual trees is located about one-fourth mile off the main trail on a marked side trail. There are also photogenic specimens of this tree along the main trail almost at the nearly bare summit.

From the top, the bottom of the East Fork of San Gabriel Canyon may be seen more than a mile vertical distance below you. Across this rugged chasm looms the massive peak of Mt. San Antonio (Old Baldy), the highest peak in the San Gabriels. On a clear day, the San Gabriel Valley and other distant mountains are visible, as well as a great expanse of the desert to the north.

On the summit is a plaque and monument erected in 1957 by the Boy Scouts of America in honor of British Army officer and founder of the Boy Scout movement, Lord Baden-Powell, for whom the mountain was named. Before 1931, the mountain was known as "North Baldy".

While this is not a strenuous hike and the trail is good, it is not an easy trip. There is a 2,800 ft. elevation gain in four miles of trail, with many switchbacks. You may experience some shortness of breath if you are not used to high altitudes.

Lamel Springs can be found a short distance off the main trail on an unmarked side trail about a third of the way up, but it's better to carry your own water. Water from this spring should be treated before using.

Distance: 8 miles round trip
Gain in elevation: 2,800 feet
Difficulty: Moderate to Strenuous
Topo map: Crystal Lake



Source - USFS
Mt Baden-Powell Photos
The Summit
Hanging around the peak of Mt. Baden-Powell. Elevation 9,399 ft.
Limber Pine Forest
Rare Limber Pines, ancient and enchanted trees that can only exist above 9,000 ft.
Lamel Spring
Small spring emerges from under a rock. Take a peek in and see where it's coming from.
Pacific Crest Trail
Hike to the the top of Mt Baden-Powell. Four miles and over a half mile up along the Pacific Crest Trail from Vincent Gap.
Vincent's Cabin
Tom Vincent's place for 56 years.
Regional Information
Geology
Transverse Ranges
San Andreas Fault
Ecology
SoCal Mountains & Valleys