Desert Wildlife
Diurnal Animals
There are a few animals that can be seen during the day. Darkling beetles are crawling about, red-tailed hawks are flying overhead, and you might see a whiptail lizard darting past your feet. These animals, active during the day and inactive at night, are called diurnal. Diurnal animals protect themselves from the heat by spending most of the day in whatever shade they can find.
Coyote
Desert Bighorn Sheep
Desert Tortoise
Raven
Vulture
Horned Lizard
Antelope Squirrel
Wild Burro
Chuckwalla
Red-tailed Hawk
Golden Eagle
Tarantula
Gambel's Quail
Mourning Dove
Black-collared Lizard
Mountain Kingsnake
Roadrunner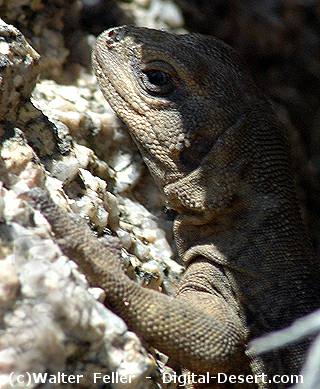 The chuckwalla, active during the day, cools down by slipping into the shade of a crack in a broken boulder.



Wildlife Watching *
Successful wildlife viewing requires a few simple tricks. Click here to find out what they are.



The Desert Food Chain *
Everything has its niche. Who eats what, and what eats who in the desert?
Click here to find out what more.