Mojave Desert Communities - Victor Valley:
Apple Valley, California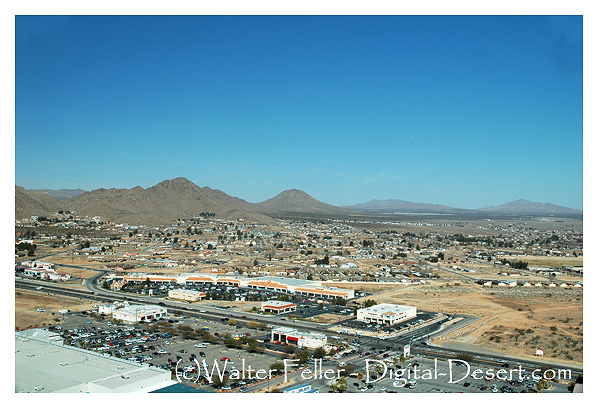 Apple Valley is located in the Victor Valley of San Bernardino County, California, incorporated on November 14, 1988. The town of Apple Valley is located 10 miles east of neighboring Victorville, 37 miles (60 km) south of Barstow and 46 miles (74 km) north of San Bernardino through the Cajon Pass.

In the early 1900s, resident, Ursula M. Poates is credited with giving the area its name by simply shortening the name of the locally based Appleton Land Company and calling it Apple Valley. "There were some apples being raised along the river in those early days, but not by the ton, so I just cut it down and called it Apple Valley!" The name was official in 1949 when the first post office was established.

Geography

Apple Valley is located near the southern edge of the Mojave Desert. It is bordered by Victorville on the west and Hesperia on the south sides.

According to the United States Census Bureau, the town has a total area of 190.7 km˛ (73.6 mi˛) of which 189.9 km˛ (73.3 mi˛) is land and 0.8 km˛ (0.3 mi˛), or 0.39%, is water.

The elevation of Apple Valley is approximately 2,900 feet (880 m) above sea level.

Apple Valley is governed by a town council. The Mayor changes each December by a vote of the five-member Council.

Apple Valley was home to Roy Rogers and Dale Evans, whose museum was first established in Apple Valley (in 1967) before the museum was relocated to Victorville in 1976. Since 2003 the museum has been in Branson, Missouri, United States. Apple Valley is the final resting place for both Roy and Dale.

Apple Valley was also where most location filming was done for the Sky King TV series in the late 1950's.
Points of Interest
Hilltop House
Dead Man's Point
Bell Mountain
Freeways & Highways
Interstate 15
State Route 18
Other
Map of Apple Valley
Apple Valley Weather