Wilderness - MAP
San Gorgonio >> Map #20

San Gorgonio Wilderness

SIZE: 37,980 acres

LOCATION: Riverside and San Bernardino Counties; 2 miles north of Morongo Valley and approximately 10 miles northwest of Palm Springs, California

NATURAL RESOURCES: This wilderness is part of the eastern slope of the San Bernardino Mountains with topography rapidly changing from low, rolling foothills and canyons to steep, rugged mountains. Elevations range from 2,300 to 5,500 feet. Because of this elevation gradient, the wilderness reflects a unique transition between desert, coastal and mountain environments, including the different types of vegetation representative of each elevation.


ACCESS: Interstate 10 provides access from the south, and State Highway 62 provides access in the Morongo Valley area.


Geomorphic Province : Transverse Ranges
Ecosection : Southern California Mountains and Valleys
Ecosubsection : San Gorgonio Mountains, Little San Bernardino - Bighorn Mountains

Native Culture : Serrano, Cahuilla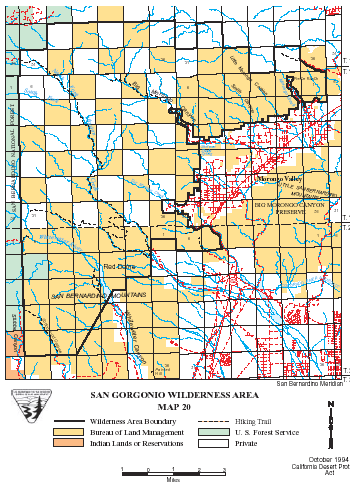 ..