Mojave Desert Communities - Panamint Valley
Death Valley National Park:
Panamint Springs, California
Panamint Springs is an unincorporated community in Inyo County, California.[1] It lies at an elevation of 1926 feet (587 m).[1]

Panamint Springs is located along State Route 190 (SR190) between Old Toll Road and SR178/Panamint Valley Road.[2] The community features a motel, restaurant, and the last gas station for many miles in either direction on SR190.

Although not official by the Board of Geographic Names, Caltrans calls the SR178/SR190 intersection, Panamint Junction. The junction is about 2.5 driving miles east of Panamint Springs. Towne Pass, a landmark when traveling to Death Valley, is 13.9 driving miles east on SR190. Beyond the pass, SR190 descends about 5,000 feet (1,500 m) to the dry bed of Lake Manly.

The Darwin Falls Wilderness, a U.S. Wilderness Area, is located just west of the settlement. The nearby area also features the Darwin Falls, a small but scenic waterfall, grotto and creek that are the only year-round water supply in the driest part of North America; despite the similarly named wilderness, the falls are located in and administered by Death Valley National Park. The dirt road entryway to the trail to Darwin Falls is located ¼ mile west of the settlement.

NAD27 latitude and longitude for Panamint Springs are 36°20'23?N 117°28'04?W? / ?36.33972°N 117.46778°W? / 36.33972; -117.46778 and the feature ID number is 1661186. The elevation is identified as being 1,940 feet (590 m) AMSL.




Source(s):

wikipedia*
* Information in this article from this source has NOT been verified, may contain erroneous information, and should not be trusted.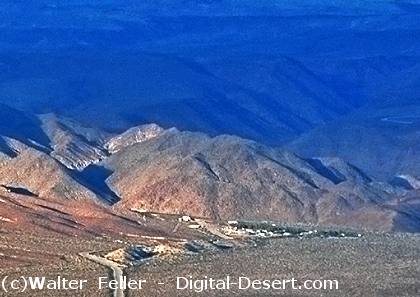 Panamint Springs at sunrise