Mojave Desert:
Nevada, Utah, Arizona Strip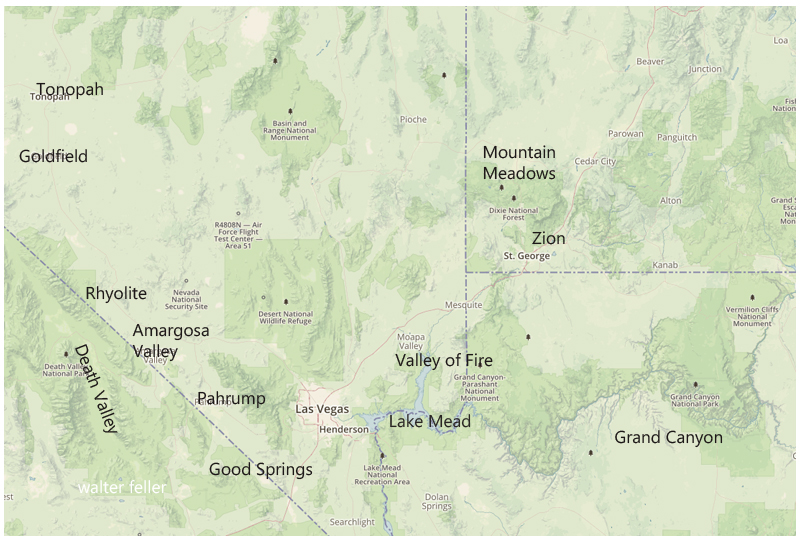 This region is comprised of the southwest corner of Utah, the northwest corner of Arizona, and Nevada between Las Vegas and Tonopah.
Utah
St. George

By 1854 the LDS Church had established an Indian mission at Santa Clara, two miles north of the St. George Valley. In 1857 and 1858 experimental farms were set up to the east and west of where St. George was to be built. While touring the experimental desert farms in May 1861, Brigham Young predicted ...

Zion National Park

Massive canyon walls ascend toward a brilliant blue sky. To experience Zion, you need to walk among the towering cliffs, or challenge your courage in a small narrow canyon. These unique sandstone cliffs range in color from ...

Mountain Meadows

Led by Captains John T. Baker and Alexander Fancher, a California-bound wagon train from Arkansas camped in the valley below this monument in the late summer of 1857 during the time of the so-called ...


Arizona
Virgin River

The North Fork of the Virgin river begins north of Zion at Cascade Falls which comes out of a cave near Navajo Lake (elevation 9,000 ft). The East Fork of the Virgin River originates above Long Valley. Both the ...

Grand Canyon National Park

The Colorado River enters the Mojave at the western boundary of the Grand Canyon

Nevada
Valley of Fire

Nevada's oldest state park. Derives its name from the vivid red sandstone formations, formed from great shifting sand dunes over 160 million years ago.

Muddy River

The Muddy River originates from a system of spring tributaries, which are clustered along the northeast slope of Arrow Canyon Range. These tributaries generally consist of warm-water springs and seeps that ...