Mojave Desert Rivers:
Virgin River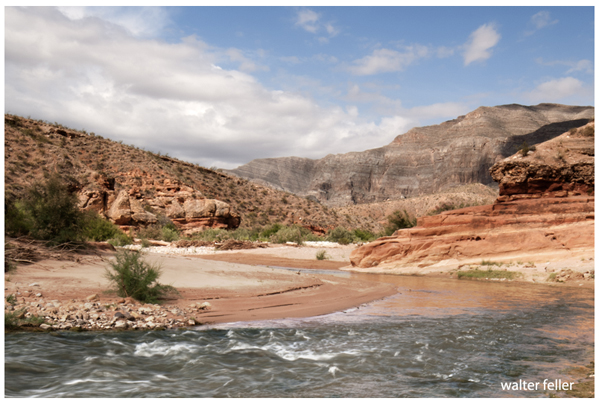 The North Fork of the Virgin river begins north of Zion at Cascade Falls which comes out of a cave near Navajo Lake (elevation 9,000 ft). The East Fork of the Virgin River originates above Long Valley. Both the North and East Forks of the Virgin River run through Zion National Park, through the southwestern corner of Utah into the northwestern corner of Arizona, a portion of Nevada and then empties into Lake Mead (approx. 1,000 ft elevation), then into the Colorado River. The total length of the Virgin River is about 200 miles.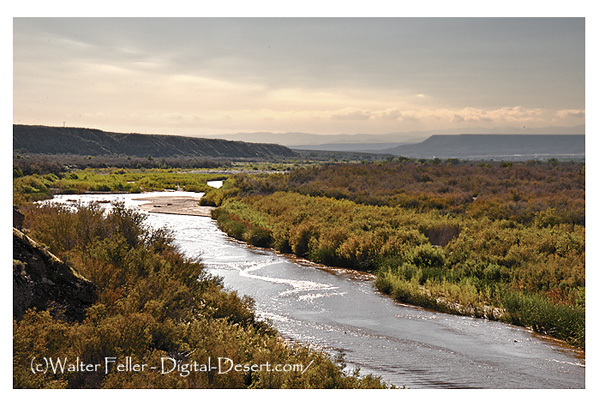 The climate of the river are that of the Mojave Desert ecosystem with hot summers and mild winters. Flora and Fauna along the river are also typical of the Mojave.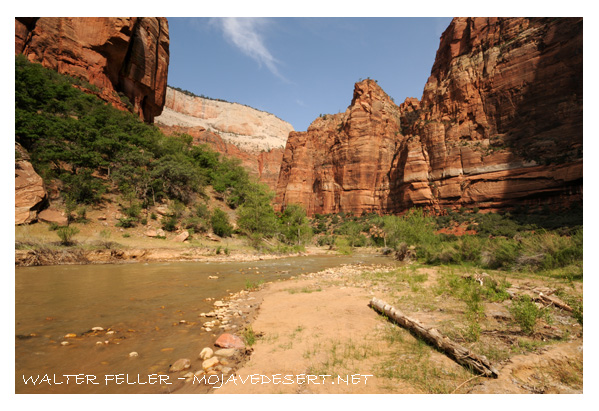 The naming of the river according to some sources is attributed to Jedediah Smith who named the river after Thomas Virgin, a member of his 1827 party. Virgin was severely wounded by Indians during a battle in this area. Virgin was later killed in a fight on the Umpqua River. Another possibility, but not certainty, is that the Virgin River was named "La Virgen" by Spanish Catholic Missionaries in honor of the Virgin Mary.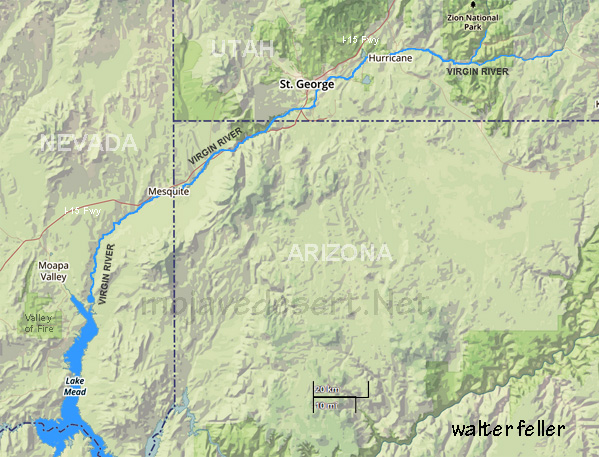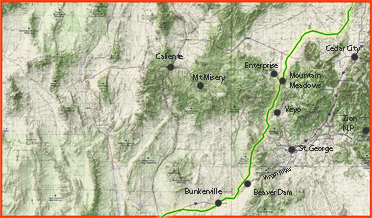 Jedediah Smith 1826 & 1827
Armijo Route - Old Spanish Trail
Paiute Indians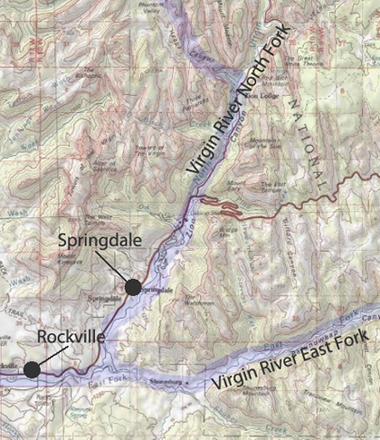 East Fork Virgin River (Wild)

The river flows next to riparian vegetation. Signs of human occupation or disturbance along the river segment are rare. The scenery is heavily primitive, wild, and natural in appearance.

The East Fork Virgin River flows directly into the southeastern portion of Zion NP in an area recently designated as Wilderness, and the scenery is similar to that portion of the Park. Typical recreation use consists of backpackers conducting multi-day trips from the upper reach of the river within the Parunuweap WSA to the exit route near Checkerboard Mesa in the Park.

Day hikes to various portions of the river segment are also common. Wildlife viewing, hunting and nature study are frequent attractions to visitors.

There are numerous cultural resource sites considered eligible for listing in the National Register of Historic Places within the river canyon, and there are dense concentrations of Virgin Anasazi sites situated on the benches above the canyon. Older and younger sites are present as well.

These sites, especially those within the narrow confines of the canyon, are an important scientific resource that contributes to the ORVs of this river segment.

North Fork Virgin River

The scarcity of man-made structures; variety of natural shapes, textures, and colors; and the gradual transition from a relatively open valley stream setting to a deeply entrenched, prominent slot canyon make the North Fork Virgin River exceptionally scenic and photogenic.

Because the North Fork serves as the main entrance to the Zion Narrows trek within Zion National Park (NP), the main recreation activity involves trekkers accessing the Park. In the extreme canyon narrows portion, the river itself often becomes the hiking trail. The outstanding scenery and wilderness-like setting make the trek along the river unique and exceptionally satisfying.

Day use activities include hiking into portions of the canyon, nature photography, wildlife viewing, and occasional hunting. Private land upstream of the BLM segment limits off-highway-vehicle (OHV) use to only an occasional authorized vehicle. There is no motorized travel allowed westward, beyond the east end of the segment. This segment includes possible neotropical migratory bird habitat. It is also Mexican spotted owl designated critical habitat.

NP = National Park
WSA = Wilderness Study Area
WSR = Wild & Scenic River
OHV = Off Highway Vehicle
ORV = Outstanding Recreational Value

from: Rivers Suitable for WSR Designation on Bureau of Land Management Lands in Utah Utah BLM State Office