OST/Salt Lake Road - Overton, Nv.
Mormon Mesa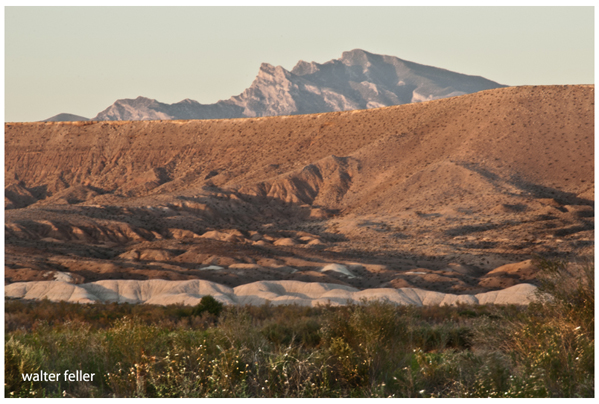 West side of Mormon Mesa from Overton, Nevada

Moving east-west along the trail corridor, the segment of the trail that travels up Virgin Hill to Mormon Mesa (near the Virgin River approximately 50 miles northeast of Las Vegas), and across the mesa itself maintains historic integrity. The portion of this Mormon Mesa segment that climbs up Virgin Hill, a rocky, sinuous, 360-foot vertical ascent for 0.6 miles, has integrity of materials, association, feeling, location, and setting. The wagon traces are intact and some historic artifacts probably lost off wagons bouncing their way up the steep incline, are found along this portion. Some rock shoring is still visible on the uppermost, steepest section of the wagon road. One small area of the Virgin Hill portion is in danger of eroding completely away.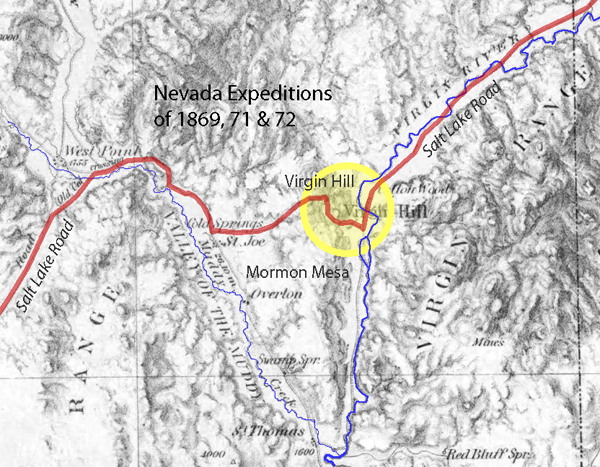 The trail emerges onto the eastern edge of Mormon Mesa and continues generally west. Except for two 0.125-mile segments disturbed by modern vehicular traffic, the surveyed trail traces on Mormon Mesa maintain integrity in terms of association, feeling, location, and setting, for an additional 3.67 miles. Very few historic artifacts associated with the Old Spanish Trail/Mormon Road were noted on Mormon Mesa; however, linear abrasion marks were noted on a small exposed part of bedrock, indicating wear by metal wagon wheels. The total length of the Mormon Mesa segment is 4.25 miles.



United States Department of the Interior - National Park Service
NATIONAL REGISTER OF HISTORIC PLACES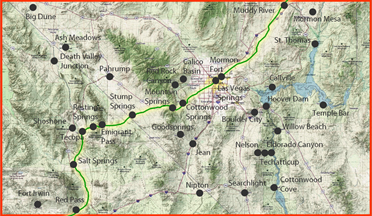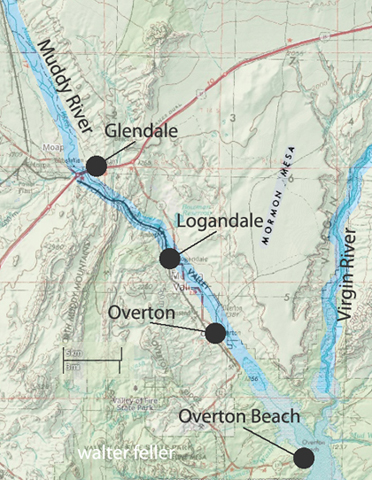 Mormon Mesa Area

". . . Mormon Mesa is located approximately ~100 km north of Las Vegas, Nevada along the I-15 corridor between the towns of Moapa, Overton and Mesquite. It is a flat-topped mesa that extends north and south around the Mormon Mountains, ending in a point near Overton. The mesa extends approximately 198 m above the Virgin River on the east, and the Muddy River and Meadow Valley Wash on the west. Mormon Mesa is unique because it is capped by a ~3 to 4-m thick stage VI petrocalcic soil that has developed on Tertiary sediments of the Muddy Creek Formation. The initiation of soil formation on Mormon Mesa is believed to have begun when the lower Colorado River drainage system formed approx. 5.4 Ma."

Geologic Assessment of Piedmont and Playa Flood Hazards in the Ivanpah Valley Area,
Clark County, Nevada
P. Kyle House1, Brenda J. Buck2, Alan R. Ramelli1