Joshua Tree National Park
Colorado Desert Ecozone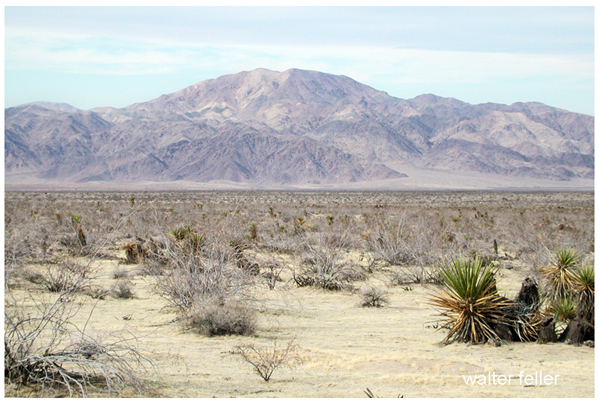 The Colorado Desert, a western extension of the vast Sonoran Desert, occupies the lower, drier southern and eastern portions of the park. It is characterized by stands of spike-like ocotillo plants and "jumping" cholla cactus.
Cottonwood Springs
Winona Mill

Cottonwood Springs

Lost Palms Oasis

Lost Palms Oasis is a native fan palm oasis with over 110 palm trees. The trees are located in a deep canyon with ...

Moorten's Mill

"Cactus" Slim Moorten built a 5-stamp mill here in 1934 to process gold ore from ...

Mastodon Peak

Miners in the area named the peak for a resemblance to a prehistoric elephant's head and trunk. The peak is ...

Mastodon Mine

The ore from the original mine shaft at the base of Mastodon Peak produced samples that assayed at ...

Bajada Trail
Pinto Basin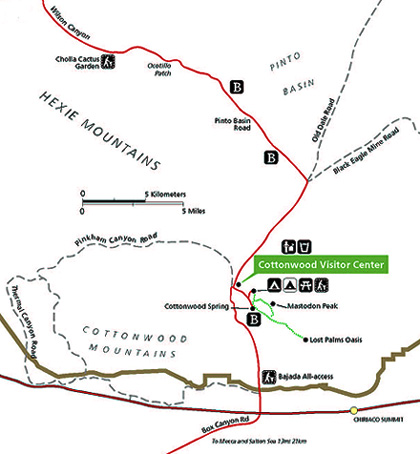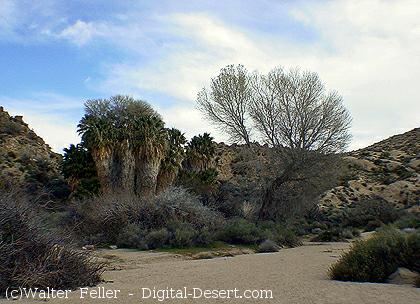 Cottonwood Springs

Ecosubsection:
Pinto Basin and Mountains
This subsection consists of steep mountains and broad valleys west of the northwest trending Little San Bernardino Mountains. It includes the Pinto Basin, Pleasant Valley, and the Pinto, Coxcomb, Eagle, Hexie, and Cottonwood Mountains. It has a hot to very hot, arid climate. ...