Wilderness - MAP
Sheephole Valley >> Map #21

Sheephole Valley Wilderness

SIZE: 174,800 acres

LOCATION: San Bernardino County; 20 miles east of Twentynine Palms, California

NATURAL RESOURCES: The Sheephole Valley, for which this wilderness takes its name, separates the Sheephole Mountains and Calumet Mountains. The Sheepholes are a steep, boulder-strewn, granitic mountain mass. The Calumets take on a similar appearance, although rising only halfway to the 4,600-foot tall Sheepholes. Bighorn sheep make their home within the Sheephole range, while the desert tortoise enjoys the valleys below. The area's lack of springs and extreme distances make wilderness travel a challenge for the most experienced desert hiker.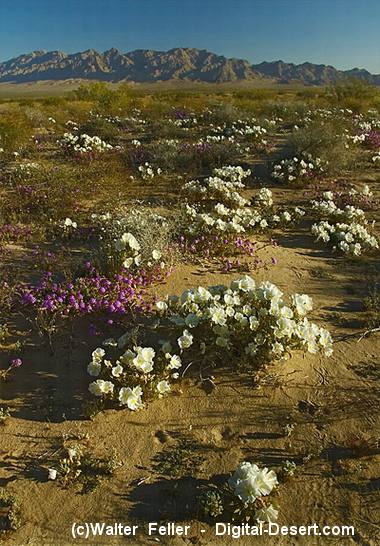 Dunes primrose in peak bloom in the Sheephole Valley Wilderness

ACCESS: To access this wilderness, travel approximately 20 miles east of Twentynine Palms, California on State Route 62. The wilderness boundary is just north of the highway's right-of-way for the next 21 miles.


Geomorphic Province : Mojave Desert
Ecosection : Mojave Desert
Ecosubsection : Bullion Mountains - Bristol Lake

Native Culture : Serrano (Vanyume), Chemehuevi, Cahuilla