Death Valley:
Death Valley Wildlife > Mammals > Cats & Others

Cats

Mountain Lion
Puma concolor
Mostly nocturnal and secretive; found primarily where there are deer, their main prey; surrounding mountains.

Bobcat
Lynx rufus
Mostly nocturnal; common in park but secretive and rarely seen.


& Others

Ringtail Family

Ringtail
Bassaricus astutus
Nocturnal and secretive; rocky terrain in arid brush and wooded areas.

Weasel Family

Badger
Taxidea taxus
Mostly nocturnal, but often active in early morning; low desert into mountains; digs burrows.

Spotted Skunk
Spilogale putorius
Nocturnal; found in brushy areas and among boulders in mountains.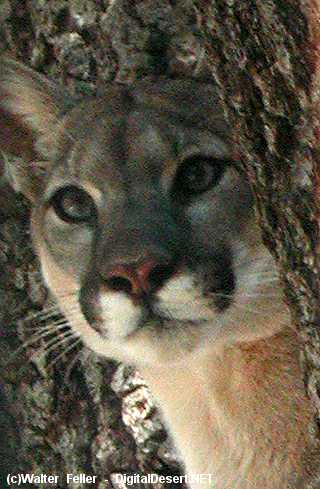 A cougar considers a kill


Also see:


DEATH VALLEY
Mammals
Reptiles
Amphibians
Fish