Bear Valley > Adventure Tours
Holcomb Valley
Explore a remote picturesque valley where a thriving town disappeared after the gold ran out. What's left? Tall forests, rare plants, and inspiring views, And maybe some gold.

Thar's Gold in Them Thar Hills

Southern California's biggest strike! It's a fact. More gold per square mile was mined out of Holcomb Valley than anywhere else in Southern California. William F. Holcomb, "Bill" was surviving on "boot soup" in the winter of 1859 when neighboring prospectors hired him to hunt bear for their small group at Starvation Flats (today known as Big Bear Valley). While the marksman was out looking for his quarry, a pretty valley lured him north. Bill's detour paid off, delivering him a huge grizzly into his gunsight. While trailing the 'griz', Bill stumbled over a quartz ledge sprinkled with flecks of yellow, Gold! By July of 1860, the rush was on. By 1875, it was virtually over.

Remember the Old West

Imagine life 100 years ago in Holcomb Valley -- small miners' cabins dotting the landscape, herds of sheep and cattle grazing, and a team of donkeys transporting lumber. Looking around now we see the forest interspersed with pockets of meadows and pebble plains where plants have evolved over eons to live in hard clay soil. While human lifestyles come and go, the plants continue to grow in this unique environment.

source - USFS



Related pages


William F. Holcomb
"On our arrival at Los Angeles in 1859, we found everything quiet, no work to be had, what to do, we, Jack Martin, my old hunting and mining companion, and I did not know."

Reports of Criminal and Secessionist Activity
San Bernardino attorney Henry M. Willis, while campaigning for political office in Holcomb Valley, had gained information of secessionist activity in that ...

Silas Cox Chases Horse Thieves to San Diego
He said he thought it was a bunch of young men, mostly gamblers, who had been in Holcomb Valley and San Bernardino for some time. ...

Over the Sierra
river, with considerable easting as said, passed Huntington's on the river, and then through Bear or Holcomb valley rounded up to the mountains directly ...

John Brown
John Brown John Brown built a toll road through the Cajon Pass and west to the Holcomb Valley. ...

Outlawry Increases
... Davidson had been kept busy chasing down rumored secessionist plots in the area, primarily in San Bernardino, Holcomb Valley and in the Mojave Desert. ...

Clark Mountain
Mr. Thompson of Holcomb Valley had a blacksmith shop nearby. Throughout 1871, the Ivanpah mines were busy shipping ore, with the wagons coming back to ...

White Fir Habitat
Common plants and animals in the Holcomb Valley, San Bernardino ...

Jeffrey Pine - Ecosystems & Wildlife Habitats
Common plants and animals in the Holcomb Valley, San Bernardino ...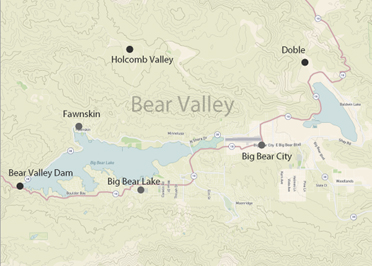 Gold Fever Trail
The clues to the past are scattered around Holcomb Valley...
Butler Peak Historic Fire Lookout
Visit a historic fire lookout to see how the sentinels of the forest ...
Big Pine Flat 4-Wheel Drive Gateway
Like to get away from town but still have the luxury of your motorized ...
Common Flora & Fauna
Look for these plants and animals in the Holcomb Valley...