Geology Tour Road:

Stop #6
Rock Sculpture
The White Tank monzogranite found at Joshua Tree National Park displays probably the most extensive rounded rock masses than any place in the world. Large bodies of monzogranite have sets of cracks, called joints, that intersect at roughly right angles to each other. Nearly vertical cracks probably occured when the rock cooled and contracted; faulting may have also contributed. As erosion removed the overlying rock, horizontal cracks were made when the rock mass expanded upward.

Jointing produces blocks of more or less cube-shaped rock. While the monzogranite was below the surface water containing carbon dioxide seeped down through the joint. This action wore away at the cracks little by little, breaking off mineral grains from the joints. This type of erosion is more effective at the edges and corners, and over a long period of time, changed the rock shape from cubical to spherical.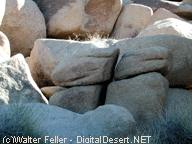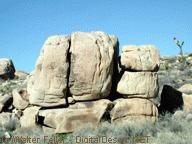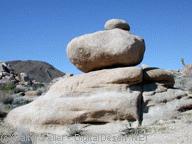 PREVIOUS - NEXT


Also see:
Rockpiles and Dikes

Geologists believe the face of our modern landscape was born more than 100 million years ago. Molten liquid, heated ...
Clickable map