Wagon Roads
The Search For A Southern Overland Route to California
by Harlan Hague

The first region known to Europeans in what is now the United States was not at the mouth of the James River nor was it on the western shore of the Bay of Cape Cod. The two-year residence in present-day New Mexico by the Spaniard, Francisco Vasquez de Coronado, pre-dated Sir Walter Raleigh's attempted settlement of Roanoke Island in the 1580s by forty-five years and lasted longer. A significant Spanish presence in New Mexico began in 1598, nine years before the founding of Jamestown. Long before English settlers began to leave their boats to cut paths beyond the fall line of the James River, trails in the Southwest between Spanish settlements in Mexico and New Mexico had been well-established and regularly used.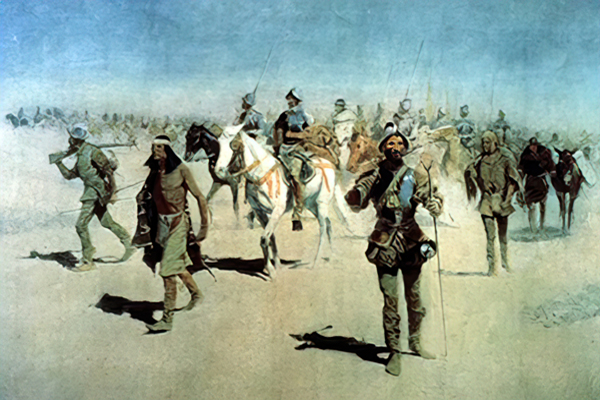 While settlement of New Mexico continued during the seventeenth century, the Spaniards also turned their attention westward, and eventually the lure of California attracted them, as it would Mexicans and Americans at a later date. Whether traveling from the United States, New Mexico, or Mexico, however, great expanses had to be crossed to reach the fabled land.

When the Spanish discovered that they could not adequately supply and populate their California settlements by a sea route from Mexico's western coast, they pioneered an overland route from Sonora to southern California. The year was 1774, two years before the signing of the American Declaration of Independence and fiftytwo years before Jedediah Smith became the first American to enter California by an overland route. The first party of emigrants to enter California overland traveled the southern route in 1775, sixty-six years before the Bartleson-Bidwell party inaugurated the California Trail as an emigrant route.

This article was published in the California Historical Quarterly (Summer 1976).


Gila Trail
Kino
Garces
Anza
Dominguez-Escalante
Fages
California-Sonora Road
Old Spanish Trail
American Expeditions
Kearny
Cooke & Graham
Native Americans
Sonora-California Trail
The Southern Route