Search for a Southern Route
Anza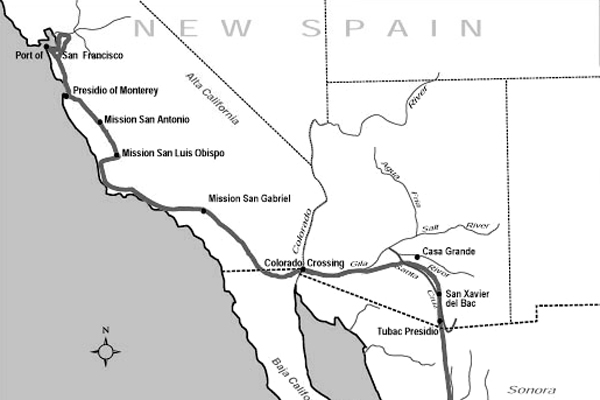 The idea for searching out an overland route to California had been a dream of Captain Juan Bautista de Anza for many years. From 1769, when he unsuccessfully sought permission to organize an expedition for that purpose, Anza tried to convince his superiors that a road could and should be opened. Garces's reports of his expedition supported Anza's view. Eventually Father Junipero Serra, "father" of the California mission system, spoke strongly in favor of the project. Serra's advice appears to have had considerable influence on the viceroy who shortly after gave his approval to Anza's plan. Anza's expedition departed Sonora in January 1774. To the Gila, across the Colorado, and into the desert beyond, Garces guided the column over trails known to him. From there to the California coast, the expedition was guided by Sebastian Tarabal. Tarabal was a "mission Indian" who had run away from the California mission of San Gabriel and made his way overland to Sonora where Anza persuaded him to join the expedition.

The worst stretch of the entire trip for the Spaniards was the crossing of the Colorado Desert where both Garces and Tarabal had been lost during their previous journeys. As a result, the Spaniards wandered and suffered until Tarabal recognized landmarks and brought the expedition to San Gabriel mission in mid-March 1774.

The first overland route to California had been found. Kino had located the trail as far as the Colorado River. Garces extended the path across the Colorado and into the desert beyond. Anza, with the help of Garces and Tarabal, completed the route to the Pacific Ocean.
Practical Use
The first practical use of the new road was made the following year. In 1775, a royal decree recognized the growing importance of Alta California and changed the seat of government from Loreto in Baja California to Monterey. Though the decree was not implemented until 1777, action was taken immediately to increase the Spanish population of Upper California. Anza was directed to lead an expedition of soldiers and colonists to establish a settlement at the Bay of San Francisco.

The expedition of 240 persons set out from Anza's frontier presidio at Tubac in October 1775. The route followed was essentially the same as the 1774 journey, except that it was straightened out in a number of places. Garces accompanied Anza as far as the Colorado River but remained there to minister to Indians and to explore. Anza led the expedition into San Gabriel on January 4, 1776. The only death during the entire journey was a woman who died from the complications of childbirth. Indeed, the expedition's numbers had been increased by three babies born during the trip.

While Anza was proving the feasibility of travel between Sonora and California, others were attempting to directly link Spanish settlements in New Mexico and California. In early 1776, Father Garces set out northward from the Yuma villages on the Colorado River on a journey that took him across the Mojave Desert to Mission San Gabriel, over the Tehachapi Mountains to the San Joaquin Valley, and thence back across the mountains and desert to the Colorado River. He had planned to travel directly between the Colorado and the San Luis Obispo mission on California's coast, but he had been thwarted on both the outward and return journeys. From the Colorado, the padre satisfied a long-held desire to visit the Hopis in the plateau country of northeastern Arizona. For generations the Hopis had resisted Spanish overlordship, and they gave Garces a cold, almost threatening, reception. The padre had hoped to fulfill his ambition to travel directly from California to the Zuni pueblo in New Mexico, but Hopi hostility reluctantly returned him to the Colorado.

Though Garces failed to complete his intended journey, he nevertheless had proven the practicability, or at least the possibility, of travel between Santa Fe and the Northern California settlements. In California, he had reached a point only a few days' easy march from San Luis Obispo and Monterey. He had personally traveled from the California Central Valley all the way to Oraibi, the principal town of the Hopis. Spaniards had visited Oraibi from Zuni, and Spanish movement between Zuni and Santa Fe was commonplace.


Previous - Next