Dry Lakes - Playas
El Mirage
Elevation: 2,840 ft

El Mirage Dry Lake Off-Highway Vehicle Recreation Area

The El Mirage Off-Highway Vehicle (OHV) Area is located in the Mojave Desert on the western edge of San Bernardino County near the Los Angeles County Line. This Off-Highway vehicle area attracts a variety of Activities.

The areas of interest include El Mirage Dry Lakebed, the Shadow Mountains, El Mirage Basin, and the Twin Hills area. This makes up a 24,000 acre of public and private land. Elevations range from about 2,800 feet at the El Mirage Dry Lake to more that 3,800 feet in the Shadow Mountains.

During summer months, temperatures can reach a high of 120 degrees F. Summer thunderstorms can come with spectacular force, although most of the minimal precipitation falls during winter months. Winter lows can fall to 5 degrees F. at night, with highs in the 60 to 70 degree F. range during the day. Spring and Fall temperatures are moderate and fall between these extremes.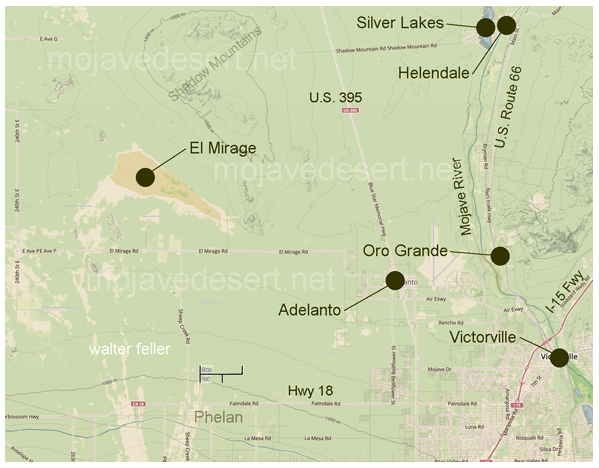 Access

The El Mirage OHV riding area is located west of Adelanto, California, between US Highway 395 and the Los Angeles County line. Most visitors enter from US Highway 395 near Adelanto by taking Chamberlaine Way (formerly Crippen Avenue) west to Koala Road. Turn right on Koala Road and follow the signs toward the town of El Mirage. At El Mirage Road, turn left. Just east of the town of El Mirage, take Mountain View Road north to enter the El Mirage OHV Recreation Area. A sign located at this intersection will direct you to the recreation area.

If you are coming from Palmdale, take Palmdale Boulevard eastbound and turn north (left) at 240 th Street . Turn east (right) at Avenue P. At the San Bernardino County line, Avenue P becomes El Mirage Road. Follow El Mirage Road through the town of El Mirage. Just east of the town of El Mirage, take Mountain View Road north to enter the El Mirage OHV Recreation Area. A sign located at the intersection will direct you to the recreation area.

The speed limit on Mountain View Road is 25 mph. Speed bumps are placed to control speed. Only street legal vehicles can use this paved access road.

Note: There is a perimeter fence around the area to limit access to selected routes. The entrance is on Mountain View Road. Boundary maps are available at the Visitor Center on Colusa Road.

Be careful when riding and watch for the boundary fence! There are three basic reasons for fencing the area:

To prevent trespass into the town of El Mirage. This is a major concern for local residents and is the highest management priority in the area.

To aid in the management of the lakebed. When the lakebed is closed due to being wet or muddy, it is easier to notify the public and enforce the closures with the fence in place.

To discourage route trespass. There is only one legal public access to the riding area; Mountain View Road. All others that were used in the past are on private land. A right-of-way was purchased using Off-Highway Vehicle Funds. The perimeter fence encourages the use of this legal route.

Activities

Most visitors ride motorcycles, ATVs, or tour in four-wheel drive vehicles. There is a road network in place so visitors may camp in most sections of El Mirage. This area is also used extensively for competitive racing events and commercial filming by permit.

El Mirage's unique flat lakebed is a destination for many visitors. There is ultra-light and other aircraft activity that would not usually be found in other riding areas.

There are several opportunities for hiking, rock scrambling, rock hounding, and wildlife watching. El Mirage has desert tortoises, a state and federally-listed threatened species.

Note: There are many deep mine shafts in the riding area! Please avoid these areas and camp away from mine shafts!

Sections

El Mirage Lakebed

The lakebed is a flat playa formed in an undrained basin. Silt and clay are deposited into this basin during periods of heavy rain. When the "lake" dries, a hard pan dry lakebed is left.

This hard, smooth surface is ideal for the unique activities conducted at El Mirage. These include ultra-light aircraft and gyrocopter flying, model rocketry, remote control airplane flying, landsailing and straight track racing. Many private pilots land on the lakebed to spend the day. The surface character has attracted the interest of many filming companies. Several major movies have scenes filmed here.

There is no speed limit on the open lakebed, but vehicle operators are responsible for their own safety, OHV rules and regulations, and knowing what is going on around them. The maximum speed limit is 15 miles per hour within 50 feet of camps and staging areas.

During permitted events, special speed limits and traffic restrictions are posted. Please watch for these events. To maintain a smooth surface, the lakebed is closed when wet or muddy. The California Highway Patrol, San Bernardino County Sheriff, and BLM Rangers patrol the area to encourage safe use by visitors.

Camping is permitted on the lakebed, but no more than 100 feet from the edge. This keeps the smooth center section of the lakebed clear for night riders.

The Basin

The basin between the lakebed and the Shadow Mountains is covered with creosote bush and crossed by deep dry washes. Most Off-Highway vehicle use occurs here.

Along with casual recreational riding, many OHV and motorcycle clubs stage "runs", and competitive races. Riding is mostly over easy terrain, but visibility can be obscured by six to ten foot tall creosote bushes. Many flat and secluded areas for camping are in this area.

Shadow Mountains

The Shadow Mountains are a group of eroded igneous peaks bordering the northern edge of the riding area. These mountains run through the center section and east of the main access, Mountain View Road.

The Shadow Mountain peaks offer moderate to hard riding terrain, and are a challenge for experienced riders. Canyons within these mountains make excellent camping areas and offer seclusion for four-wheel drive campers. Watch for open mine shafts in these areas.

Twin Hills

The Twin Hills area is on the east side of the riding area between the Little Shadow Mountain group and US Highway 395. This flat basin is punctuated by small mound-like hills and gets light riding activity. There are camping possibilities here, but motor home campers might find driving in this area difficult.

El Mirage Cooperative Management Area is now a Fee Area

Each vehicle driven into the area will be required to have a special recreation permit. A separate permit is NOT required for any vehicles towed into the area. However, if a towed vehicle is later driven in or out of the area a permit will be required.

The permits are:
$15 for a one day permit, valid from dawn to dusk
$30 for a weekly permit, valid for 7 days
$90 for an annual permit, valid from October 1, 2009 - September 30, 2010

Permits will be available for sale on-site using a fee machine. The on site fee machines take cash and credit cards. Please bring exact amount of the pass, the machines do NOT make change. The fee machines at EL Mirage sell daily, weekly and annual passes.

IMPORTANT RULES & REGULATIONS

Registration and Licensing of Vehicles

Vehicles operated on bladed dirt roads and paved highways (publicly maintained roads) must be registered for highway use. These roads may be crossed at a 90-degree angle by Off-Highway vehicles, but are not to be used for travel. (38025 CVC) All required safety equipment must be installed on such vehicles.

Off-Highway Vehicles owned by California residents must be registered with the California Department of Motor Vehicles and must display a valid "Green Sticker" registration plate properly on the vehicle. (38010 CVC and 38170 CVC).

If you are not a resident of California and your Off-Highway vehicle is not registered in your home state, you are required to have a Non-Resident "Green Sticker" OHV permit, issued by California Department of Parks and Recreation, to operate your vehicle in the state of California. (38020 CVC) The display locations on the vehicle are the same as those specified for California Green Stickers. (38170 CVC)

Safety

It is illegal for anyone who is under the influence of alcohol or drugs to operate an OHV. In addition, operating or riding an OHV with an open container of alcohol is prohibited. (23152(a) CVC)

Possession or use of any glass container, empty or not, used for carrying any liquid for drinking purposes is prohibited. (43 CFR 8365.1-6)

OHVs must be equipped with an approved muffler, brakes, and spark arrestor. (38365,38355, and 38366 CVC) Seat belts are to be worn if your vehicle is equipped with them. The OHV operator must be able to reach and operate all controls on the vehicle.

Headlights and taillights are required when driving between one-half hour after sunset to one-half hour before sunrise. (38335 CVC)

OHVs are not to be operated faster than what is safe for the conditions of the area. (38305 CVC) When riding within 50 feet of any campground, campsite, or concentration of people or animals, speeds cannot exceed 15 mph. (38310 CVC) It is unlawful for any person to drive any motor vehicle in any manner with a willful and wanton disregard for the safety of other persons. (38316 CVC)

The El Mirage OHV Area is a No Shooting Area. (43 CFR 8365.1-6) It is illegal to possess and/or discharge fireworks. (43 CFR 8365.2-5(a))

On the ground, motorized vehicles should yield to non-motorized craft and aircraft.

ATV Regulations

All persons, regardless of age, who operate an ATV on public lands must wear an approved safety helmet. (38505 CVC)

Persons less than 14 years of age must be supervised by a parent or guardian. (38504 CVC) Carrying passengers is prohibited on ATVs. (38506 CVC)

REGULATIONS FOR THE USE OF PUBLIC LANDS

The lakebed is closed to all users where wet or muddy.

Any actions that result in surface disturbance or destruction are illegal. (43 CFR 8365.1-6)

No person will operate an Off-Highway vehicle in a manner likely to cause unnecessary damage to land, wildlife, wildlife habitat, or vegetative resources. (38319 CVC)

Please help Protect Joshua Trees. Joshua Trees are protected. It is prohibited to dig up, remove, or destroy any tree or shrub. Bring your own nail-free firewood.

The Desert Tortoise - The desert tortoise is listed as a threatened species. Do not handle tortoises. They may lose water when frightened, risking death through dehydration. (CA F&G 5000)

Camping - Camping on BLM lands is limited to 14 days. Camping is not allowed "in the open" on the lakebed, more than 100 feet away from the shore. It is unlawful to leave a campfire without extinguishing it. Campfire permits are required during periods of high fire danger. (43 CFR 9212.1)

Pack it in! Pack it out!

It is illegal to leave litter on public land. (43 CFR 4140.1 (b(6)).

Source - BLM


Recreation
Off-Highway Vehicle (OHV) Recreation Areas:
San Bernardino County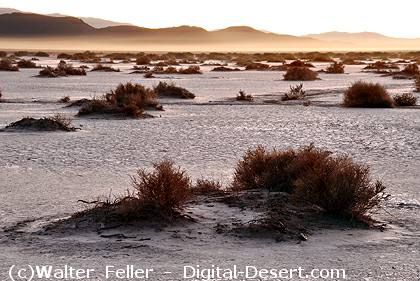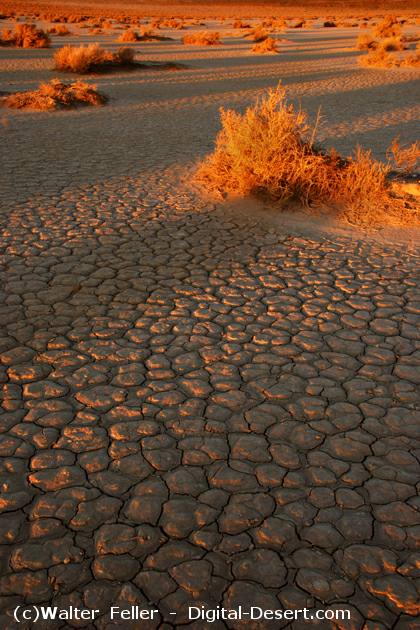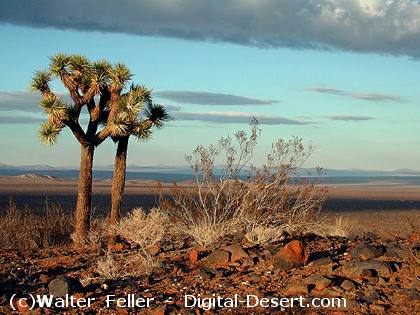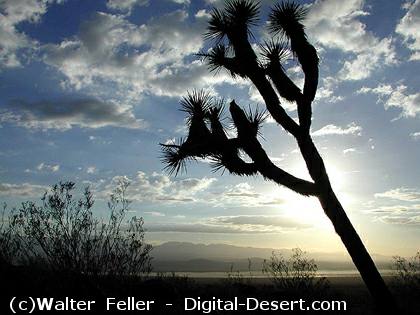 El Mirage Satellite Image
El Mirage photo gallery
More about:
Dry Lake Formation
... Today they flood only after seasonal storms provide flashflood waters, or ... Learn more about the ...
Joshua tree
Joshua tree is one of the most characteristic plants of the Mojave Desert and ...