Death Valley Region Geology Guide
Badwater (BW)
Sites BW1-8 are all very easily accessible, generally close to the village of Furnace Creek and are thus quite popular with tourists and geologists alike. Sites BW1-3 are directly on the main paved road. Site BW4 is a short walk from the end of a steep dirt access road. Site BW5 is accessible from a well-graded, virtually level gravel road. Site BW6 is off a paved loop accessible to all but the largest of vehicles. Site BW7 is also directly adjacent to the paved road but the more fascinating features require a steep several hundred yard hike up from the pavement. These sites can be visited while in transit between Furnace Creek and Shoshone or are all within a short easy drive from Furnace Creek. Most of the sites contain features of tectonic, topographic or geomorphic significance.
BW1. Detachment Fault

This small, west-dipping fault is probably not a major detachment surface but is more likely a small sympathetic fault sub-parallel ...

BW2. Mormon Point

The most striking thing about Mormon Point is the view to the northeast into the Black Mountains ...

BW3. Badwater

Badwater is one of the most important geographic and geologic places in the world. It is the lowest land in ...

BW4. Natural Bridge

Unlike the natural bridges of the Colorado Plateau which are carved out of hard sandstone, the natural bridge in this canyon is ...

BW5. Devilís Golf Course

The Devilís Golf Course is the best place to examine the salt pan or playa surface that makes up the floor of Death Valley. ...

BW6. Artistís Palette

This is one of the most colorful sites in Death Valley. The rocks exposed here belong to the Miocene ...

BW7. Mushroom Rock/Lake Manly Terrace

The origin of Mushroom Rock has been debated for many years. Generally, most people thought it was a ventifact as ...

BW8. Hanaupah Canyon Fault Scarp

This bluff marks the trace of the Hanaupah Canyon fault. At this point it is trending N 17o E but it swings more ...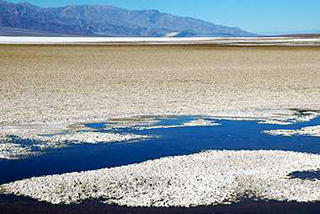 Ecology:
Death Valley
The predominant natural plant communities on fans are Desert-holly series and, higher up the fans, Creosote bush series. Desert-holly series is replaced by Allscale series toward the southern end of the valley. Brittlebush series and White bursage series are common in washes on the fans. ...