Death Valley National Park - Ecosystems
Faulting & Geologic Formations
Faulting
Faulting is the one of the main reasons Death Valley exists. Movement along faults allow the mountains to rise and the valleys to sink. Death Valley is located in the southwestern portion of the Basin and Range geomorphic province. The Basin and Range province has a long and active geologic history, including faulting and regional tectonic movement. Fault-bounded uplifted ranges are separated by down-dropped sedimentary basins.

Most faulting that is presently occurring within Death Valley is strike-slip (transverse) with a component of normal movement. With faulting comes the possibility of seismic activity, more commonly known as earthquakes. Most earthquakes that occur today are very small and cause no damage to structures or the ground surface. However, at some point in the future (no one knows how long into the future), the major fault systems in Death Valley are almost sure to create a significant seismic event.
Geologic Formations
Death Valley National Park is one of many units within the National Park service established because of its underlying geologic theme. Death Valley NP is renowned world-wide for its exposed, complex, unique tectonics and diverse geologic resources. Contained within its boundaries is a diverse rock record stretching throughout most of geologic time. From 1.8 billion-year-old metamorphic rocks exposed in the Black mountains, to recent playa sediments deposited in the valley basins, Death Valley possesses a superb geologic record. Paramount is the realization that Death Valley's geology is an ongoing dynamic process. Wind, water, and plate tectonics are still hard at work, shaping the park on a day-to-day basis.
Source - National Park Service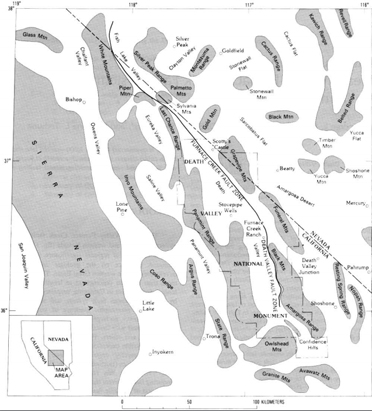 Fault Zone Map - click for larger map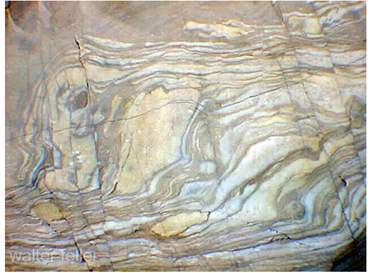 Mosaic Canyon