Wildlife > Reptiles > Lizards


Tree Lizard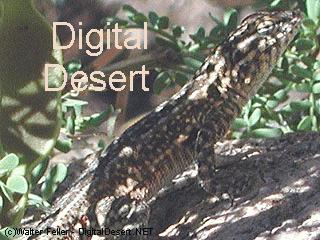 Tree Lizard

Also see > Reptile: Diurnal

Mammals - Predators
Mountain Lion
Coyote
Bobcat
Kit Fox
Badger
Ringtail Cat
Mammals - Prey
Desert Bighorn Sheep
Mule Deer
Desert Cottontail
Jackrabbit
Antelope Squirrel
Round-tailed Ground Squirrel
Mammals
Mustang
Wild Burro
Reptiles
Desert Tortise
Reptiles - Snakes
Mojave Rattlesnake
Mountain Kingsnake
Reptiles - Lizards
Chuckwalla
Horned Lizard
Black-collared Lizard
Mojave Fringe-Toed Lizard
Desert Spiny Lizard
Zebra-Tailed Lizard
Tree Lizard
Desert Iguana
Whiptail Lizard
Western Brush Lizard
Birds - Predators
Red-Tailed Hawk
Golden Eagle
Roadrunner
Barn Owl
Birds - Scavengers
Raven
Vulture
Birds
Gambel's Quail
Mourning Dove
More Birds
Insects
Tarantula
Tarantula Hawk Wasp



Wildlife Watching *
Successful wildlife viewing requires a few simple tricks. Click here to find out what they are.



The Desert Food Chain *
Everything has its niche. Who eats what, and what eats who in the desert?
Click here to find out what more.