Wilderness - MAP
Newberry Mountains >> Map #35

Newberry Mountains Wilderness

SIZE: 2,900 acres

LOCATION: San Bernardino County; 15 miles east of Barstow, California

NATURAL RESOURCES: The Newberry Mountains Wilderness is noted for its rugged volcanic mountains and deep, maze-like canyons. Topography ranges from 2,200 feet in the north to 5,100 feet in the south. The unique desert features are the result of ancient volcanic activity. Desert bighorn sheep have historically traveled this area, and prairie falcons and golden eagles stop here to forage and rest. Spring wildflower displays are likely along the west boundary.


ACCESS: Access to this wilderness is by Camp Rock Road from either Interstate 40 or State Highway 247.


Geomorphic Province : Mojave Desert
Ecosection : Mojave Desert
Ecosubsection : Lucerne - Johnson Valleys and Hills, Mojave Valley - Granite Mountains

Native Culture : Vanyume, Chemehuevi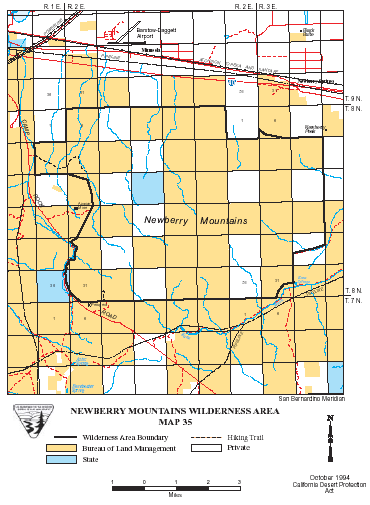 ..