North Mojave Desert
Owens Valley
Also including Inyo Cerro Gordo and the Bristlecone Pine Forst

134.4 km (84 mi) long
Description: Bound on the east by the Inyo Mountains, on the southeast by the Coso Range, on the south by Rose Valley, on the west by the Sierra Nevada, and on the north by Chalfant Valley.
Alabama Hills

Alabama Hills Recreation Area is a geologic phenomena located in nearly 30,000 acres of ...

Cartago

Owens Lake port for bullion from Cerro Gordo.

Cerro Gordo

The "fat hill" produced silver, lead and zinc for a century. At its peak over 1,000 people lived ...

Cottonwood Charcoal Kilns

Fuel production for smelting operations.

Dirty Sock Springs

The actual origin of the name is lost forever. There are several weak theories, but once you have spent a little time there ...

Dolomite

Small mining ghost town against the mountains north of Owens Lake.

Fossil Falls

Dry waterfall at southern end of Owens Valley

Fossil Falls

Flora near dry falls at southern end of Owens Valley.

Keeler

Refining and shipping operations for Cerro Gordo.

Keeler Cemetery

Keeler wasn't just where the railroad stopped, it was where it all could end.

Keeler Smelter

Silver ore roasting in Keeler.

Little Lake

Gateway to the eastern Sierra

Lone Pine, Ca.

Population: 1,655 - Elevation : 3,733 feet

Olancha Dunes

Sand dune OHV area at southern end of Owens dry lake.

Owens Lake

Swansea

Founded in 1870, Swansea is located at the northern end of Owens Lake ...
clickable Owens Valley Map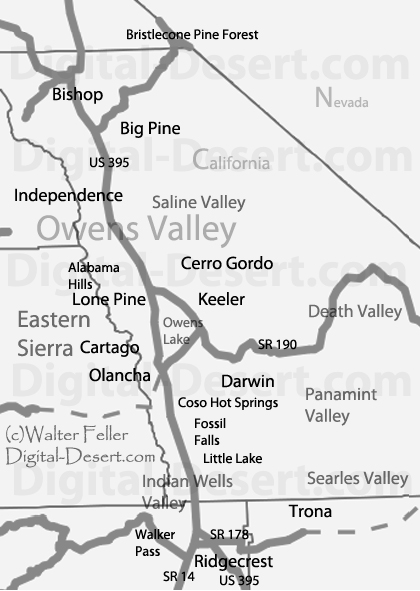 Sierra Nevada from Owens Lake ghost town site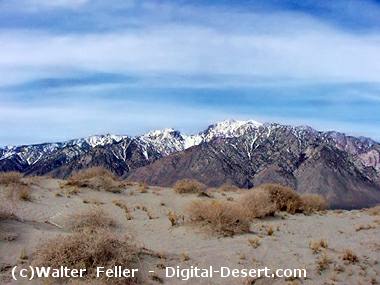 Sierra Nevada from Olancha Dunes

Cultural
Owens Valley Paiute
The Owens Valley Paiute belong to an extensive group known generically as the Northern Paiute (in western Nevada as the Paviotso), which extends through ...

Ecological
Owens Valley
Inyo Mountains
Coso & Argus Ranges
Transportation
Highway 395
Highway 190
Trip Guides
For the Eastern Sierra and Death Valley