Communities:

Lone Pine, Ca
click the photo for more information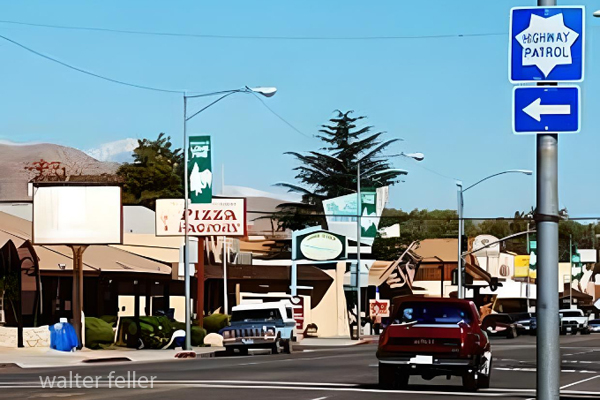 Lone Pine, Ca. - October 2006
---
Lone Pine, California, is a small town located in Inyo County, in the eastern part of the state. The town has a rich history that spans several centuries. This document will provide an overview of the key events and developments that have shaped the history of Lone Pine.

The history of Lone Pine can be traced back to the indigenous Native American tribes that inhabited the region for thousands of years before the arrival of European settlers. These tribes, including the Paiute and Shoshone, lived off the land and had a deep connection to the natural environment.

The town of Lone Pine was officially founded in 1861 during the height of the California Gold Rush. The discovery of gold in the nearby Owens Valley brought a wave of prospectors and fortune seekers to the region. The town quickly grew as miners set up camps and established businesses to support the mining industry.

In 1872, Lone Pine became the county seat of Inyo County, further solidifying its importance in the region. The town continued to grow and prosper, attracting settlers who were drawn to the opportunities provided by the mining industry and the fertile land in the Owens Valley.

One of the most significant events in the history of Lone Pine occurred in 1872 when a powerful earthquake struck the region. Known as the Lone Pine earthquake, it caused widespread destruction and loss of life. The town was rebuilt in the years following the earthquake, and today, visitors can still see remnants of the historic buildings that survived.

The surrounding area's natural beauty also significantly influences Lone Pine's history. Mount Whitney, the highest peak in the contiguous United States, is located just west of the town. The mountain attracts worldwide outdoor enthusiasts who hike, climb, and explore the stunning wilderness.

In the early 20th century, the construction of the Los Angeles Aqueduct brought significant changes to the Owens Valley and the town of Lone Pine. The aqueduct, which transports water from the Eastern Sierra Nevada Mountains to Los Angeles, led to water diversion from the Owens Valley, causing a decline in agriculture and changing the region's economic landscape.

Despite these challenges, Lone Pine has managed to maintain its unique charm and character. Today, the town attracts visitors who are drawn to its rich history, natural beauty, and outdoor recreational opportunities. The Lone Pine Film Festival, held annually, celebrates the town's history as a popular filming location for many Hollywood movies.

In conclusion, the history of Lone Pine, California, is a testament to the resilience and adaptability of its residents. From its early days as a mining town to its role in the film industry, Lone Pine has evolved and thrived throughout the years. The town's rich history and stunning natural surroundings continue to make it a unique and vibrant destination for visitors worldwide.
---