Ecology - Mojave National Preserve:

Flora & Fauna of the Mojave Preserve
The wildlife and vegetative resources of Mojave National Preserve reflect the mingling of three major North American deserts: the Great Basin, the Mojave, and the Sonoran deserts. Vegetation consists primarily of species common to the Mojave Desert, but the Preserve also contains floral species of the Great Basin, Sonoran, and even some elements of the California coastal zone. Mojave National Preserve was established to preserve an ecologically diverse, yet fragile desert ecosystem, comprised of scenic, geologic and wildlife values unique not only to the Mojave, but the Great Basin and Sonoran desert environs as well. This transition zone, ranging from nine hundred to nearly eight thousand feet in elevation, embraces a plethora of landforms: cinder cones, sand dunes, dry lake beds, alluvial fans, mountain ranges, table-top mesas, large desert bajadas (alluvial fans) and valleys. This harsh Mojave desert landscape provides refugium for over one thousand plant and animal species, including threatened and endangered species.
Flora

The Preserve consists primarily of vegetative attributes of the Mojave Desert but contains ...

Fauna

In its entirety, the California desert contains no finer grouping of different wildlife ...

Desert Tortoise

The range of the desert tortoise includes the Mojave and Sonoran deserts in southern ...

Desert Bighorn Sheep

Native populations of Nelsonís bighorn sheep (Ovis canadensis nelsonii) are found in ...

Mojave Tui Chub

The Mohave tui chub (Gila bicolor mohavensis) is in the minnow family and can reach over ...

source - NPS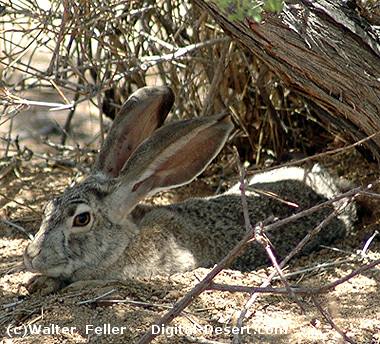 Common fauna (jackrabbit) takes a break from the midsummer heat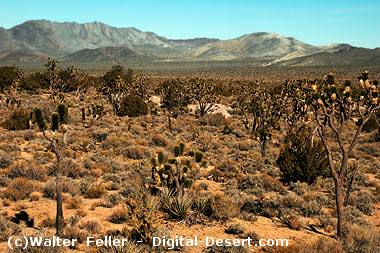 Joshua tree woodland on Cima Dome