Mojave Desert Communities: Antelope Valley
Lancaster, California
The Beginning


The Southern Pacific Railroad built a line from San Francisco to Los Angeles which was completed in 1876. Along the line was a water stop located in what is now Lancaster. The Southern Pacific constructed homes for their employees engaged in maintaining the railroad. The Gilwyn Hotel was built near the water stop in the beautiful desert plains area and a small town began to develop.

Generally, the name "Lancaster" is attributed to a Mr. M.L. Wicks, a real estate developer who in 1884 purchased over 38,000 acres of land for a price of about $96,000 from the Southern Pacific Railroad. He then named the area for his former home, Lancaster, Pennsylvania. However, in publications pre-dating Mr. Wicks, a place called 'Lancaster' in association with the railroad was mentioned. So the name of the city may probably be most accurately attributed to the Southern Pacific.


--

Lancaster – which today calls itself "the heart of the Antelope Valley"-owes its birth to the Southern Pacific Railroad. In the summer of 1876 the railroad laid track through the town's future location and by September had completed a railroad line through the Antelope Valley, linking San Francisco and Los Angeles. The origin of Lancaster's name is unclear, attributed variously to the surname of a railroad station clerk, the moniker given by railroad officials, and the former Pennsylvania home of settlers. Train service brought passengers through the whistlestop-turned-community, which with the help of promotional literature quickly attracted new settlers.

The person credited with formally developing the town is Moses Langley Wicks, who in 1884 bought property from the railroad for $2.50 per acre, mapped out a town with streets and lots, and by September was advertising 160-acre tracts of land for $6 an acre. The following year, the Lancaster News started publication, making it the first weekly newspaper in the Antelope Valley. By 1890, Lancaster was bustling and booming, and thanks to ample rainfall farmers planted and sold thousands of acres of wheat and barley.

The town was devastated by the decade-long drought that began in 1894, killing businesses and driving cattle north, though fortunes improved somewhat in 1898 following the nearby discoveries of gold and borax, the latter to become a widespread industrial chemical and household cleaner. Thanks to the five-year construction of the 233-mile Los Angeles Aqueduct starting in 1908, Lancaster became a boom town by housing aqueduct workers.

The 1912 completion of Antelope Valley Union High School allowed students from the growing region to study locally instead of moving to distant cities, and the school boasted the state's first dormitory system to accommodate students from outlying districts. For seven years starting in 1926, a young Judy Garland-then still Frances "Baby" Gumm-lived in Lancaster and honed her skills as a child singer, dancer, and entertainer before going on to become one of Lancaster's most famous residents. The community began a steady growth spurt in the 1930s, starting with construction of Muroc Air Force Base, frequent flight tests, and later space shuttle landings. Lancaster was controlled politically by Los Angeles County until 1977, when it was incorporated as a city.


from; Antelope Valley Library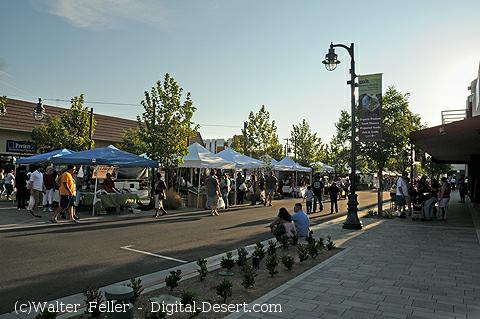 Lancaster Weather
Elevation: 2355 feet

County: Los Angeles

Land area: 94.0 square miles


Lancaster, CA - Area Feature Tours


Ripley Desert Woodland
The park protects and preserves an impressive stand of native Joshuas and junipers which ...
Poppy Reserve
Nestled in the Antelope Buttes 15 miles west of Lancaster, California is located on California's most consistant ...
Tropico Gold Mine
Ezra Hamilton owned a pottery Los Angeles California. He made bricks and pipe from the fire clay mined from ...
Saddleback State Park
In the springtime (February through May) wildflowers may put put on a beautiful display of color. This is usually ...

Antelope Valley
West Mojave Desert
Mojave Desert Wildflower Guide
Also see...
Palmdale CA
Mojave CA