Geology Joshua Tree National Park - Backcountry Roads
Geology Tour Road
The Geology Tour Road is an 18-mile, self-guiding driving tour along a dirt road winding through some of the park's most fascinating rockscape. 4-wheel-drive vehicles are recommended beyond stop #9, Squaw Tank.

To continue, please start with the Introduction, or click Begin Here on the map.

Introduction
The face of the earth at any time represents only a fleeting moment in a very long ...

1_ Queen Valley


Queen Valley, a mountain-rimmed valley at an elevation of 4,450 feet is ...


2_ A Raindrop Divides


This knoll is the north-south drainage divide for the park. Typically, ...


3_ Nature's Gutter


This is a dry intermittant stream channel, more commonly known as a ...


4_ Old Erosional Level


Many of the monzogranite boulders here bear a distinct ...


5_ Rock Piles


The monzogranite forming these rock piles was once a ...


6_ Rock Sculpture


The White Tank monzogranite found at Joshua Tree National Park ...


7_ Malapai Hill


The twin peaks of Malapai Hill rise about 400 feet above the ...


8_ Alluvial Fans and Bajadas


Alluvial fans are made up of sand, gravel and rock which ...


9_ Squaw Tank


Squaw Tank is an excellent place to observe interesting ...


10 Pleasant Valley


The Blue Cut fault is an earthquake fault that runs for about ...


11 Debris Flow


Occuring at the mouth of this steep canyon in the Hexie Mountains,...


12 Mines


The Hexie Mountains slopes are riddled with mine tunnels ...


13 Dry Lake


The upheaval of the Hexie Mountains with subsidence of ...


14 Pinto Gneiss


The banded and folded Pinto gneiss, approximately ...


15 Pinyon Well Junction


This is the alluvial fan at the upper end of the bajada ...


16 Panoramic View

In this tour of the Queen and Pleasant Valley's, we've seen ...



Clickable map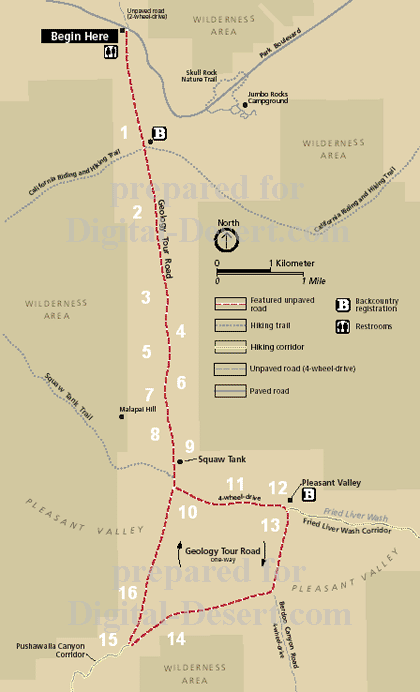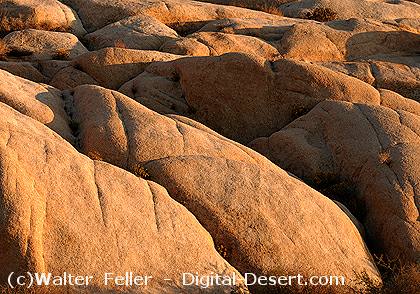 Squaw Tank granite