Geology - Death Valley:
Death Valley Geology
Geology Overview
From ancient seas to the shape of things to come, an overview of the geology of Death Valley
Ancient Seas
Death Valley's rocks, structure and landforms offer a wealth of ...


Warped Mountains
Time passed and the sea began to slowly recede to the west as land was ...


Traveling Volcanos
The next phase in Death Valley's development was primarily influenced by ...


Basin and Range
Approximately three million years ago, the dynamics of crustal movement ...


Erosion and Deposit
Water carries rocks, sand and gravel down from surrounding ...


Lost Lakes
During North America's last major Ice Age, the valley was ...


Yesterday's Volcano
Recent signs of volcanic activity exist in northern Death Valley at ...


Shape of the Future
... and will continue to change a long time after ...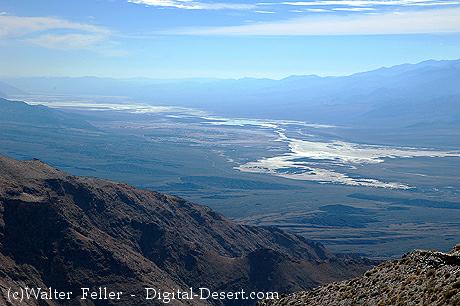 A view of Death Valley looking south from Chloride Cliff