--

Desert Wildlife:
Scavengers
A type of animal that consumes already dead organic life-forms. Scavengers play an important role in the ecosystem by contributing to the decomposition of dead animal remains.

Well known scavengers include vultures, and ravens. Many large carnivores that hunt regularly, such as coyotes and mountain lions, will scavenge if the opportunity presents itself.

Coyote
Raven
Vulture
Golden Eagle


Also see:

Mojave Desert - Glossary of Terms and Definitions
SCAVENGER - Scavengers are opportunists who search for or take advantage of useful dead organic material; usually described as a member of the decomposer ...

The Scavengers - Land of Little Rain - Mary Austin
It is a very squalid tragedy, — that of the dying brutes and the scavenger birds. Death by starvation is slow. The heavy-headed, rack-boned cattle totter in ...

The Scavengers - Land of Little Rain - Mary Austin
There is no scavenger that eats tin cans, and no wild thing leaves a like disfigurement on the forest floor. Page 16 of 16 > next ...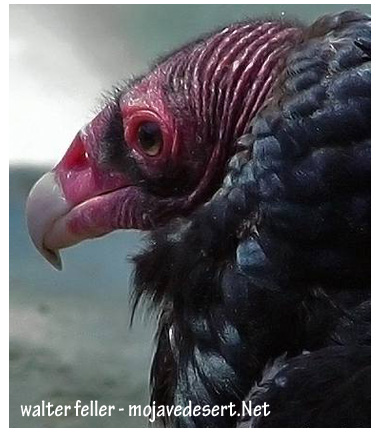 Turkey Vulture, the quintessential desert scavenger




Wildlife Watching *
Successful wildlife viewing requires a few simple tricks. Click here to find out what they are.



The Desert Food Chain *
Everything has its niche. Who eats what, and what eats who in the desert?
Click here to find out what more.