Lake Mead:
Temple Bar
One persistant pioneer family remained behind when the Mormon homesteaders of St. Thomas, Nevada, voted to abandon the town in 1870.

Daniel Bonelli left St. Thomas after it was abandoned and built his home at Junction City, at the mouth of the Virgin River, and renamed it Rioville. Bonelli raised cattle and agricultural crops, and mined salt for sale to the miners from Temple Bar to El Dorado. Bonelli recognized another need, so Rioville also became known as Bonelli's Ferry. The ferry operated until 1920. Rioville had a store, post office, and a Pony Express station. Daniel Bonelli is credited with naming "The Mormon Temple" at Temple Bar.

The Temple Bar Mining Company produced placer gold from 1894 to 1898. After having problems securing driftwood from the river, they shipped the needed timbers from Kingman. The miners picked up their mail at Rioville.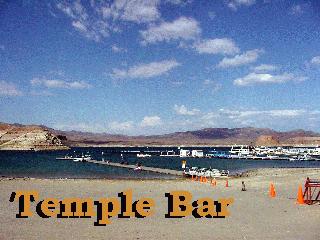 -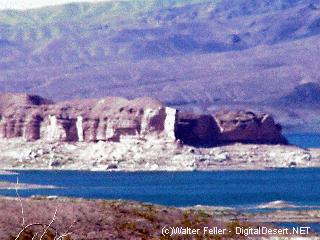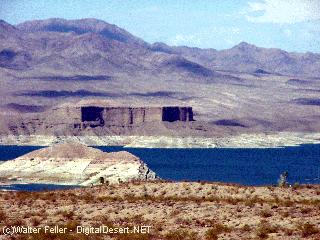 -