Silverwood Lake
Recreational Activities
Boating, fishing, water skiing, jet skiing, hiking, bicyling, and swimming are all popular activities. Several picnic areas surround the lake, including three which are accessible only by boat. Rangers lead activities such as nature walks, Junior Rangers, campfire programs and winter boat tours to view bald eagles.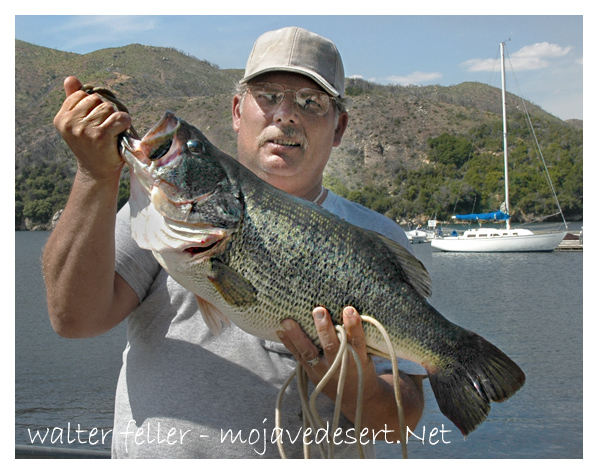 Fishing
Spring and fall, when lake and waterskiing activity are minimal, provide the best fishing conditions. From February through early June, trout fishing is good, and the lake also has largemouth bass, bluegill, crappie, catfish and striped bass. In spring boat and shore fishing are available.
Camping
The Mesa Campground has 136 family sites, each with a table, barbecue grill and fire ring. Restrooms and showers are nearby. There are seven sites for bicyclists and hikers, and five accessible sites. The group campsites have barbecues, tables and restrooms with showers. Each will accommodate 120 persons and 30 cars.
Hiking/Bicycling
The park has 13 miles of paved hiking and bicycling trails. Bicyclists under 18 years of age must wear safety helmets. Riders should watch for sand and debris on the trail, slow down around blind curves, and carry plenty of drinking water. Boating—The northern part of the lake has an area for waterskiing, and a marina and launch ramps are located at the southern end.
Waterskiing
Only aquaplanes or waterskis are permitted. Tow lines must not exceed 90 feet. Inflatable equipment, such as rubber rafts and innertubes, must not be towed.
Swimming
Two swim beaches are located at the southern end of the lake. Lifeguards are on duty daily from Memorial Day weekend through Labor Day weekend.
Bald Eagle Barge Tours
From January through March, barge tours to view the bald eagles are available. Saturday/Sunday tours are popular attractions.
The Pacific Crest Trail
Part of the 2,650-mile Pacific Crest Trail—which originates in Mexico, traverses three western states and terminates in Canada—passes through the park. This jewel in the crown of America's scenic trails runs along the crest of the San Bernardino Mountains.


source: State of California

-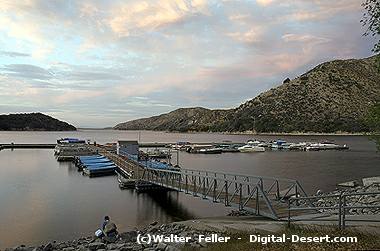 Silverwood Lake Map
Interactive Lake Map

Boat Tour
Explore the lake by boat

Campground Tour
Virtual camping

Beach Tour
Swimming at the beach

Hiking Tour
Discovering Silverwood on foot

Aerial Photo
Photo of the lake and link to virtual aerial tour of area to the north of the lake

Pacific Crest Trail
Hike to the lake from the Mojave River Forks along the Pacific Crest Trail

Forest Lakes Tour
More lakes of the San Bernardino National Forest, starting with Silverwood

General Information
Activities, camping reservation & contact phone numbers

Silverwood Satellite Image

360° photo of Silverwood Lake
360 images provided by 360Photo.NET