Desert Indians: Silverwood Lake
Native People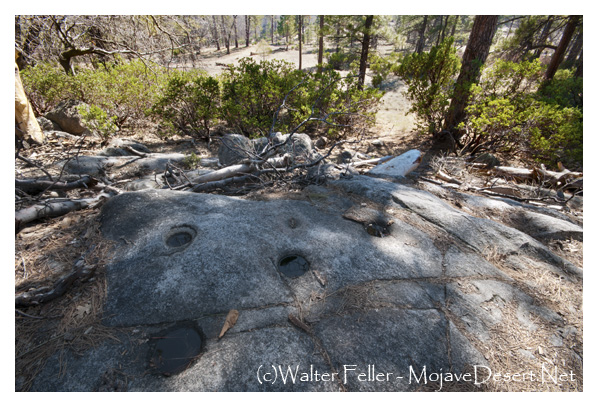 For some 2,500 years, the Serrano (Spanish for "mountain people") Indians occupied Yahaviat (pine place) on the northern and southern faces of the San Bernardino Mountains, as far north as the flat desert bounded by the Tehachapi Mountains. In this land of plenty, the Serrano hunted large and small game with bows and arrows, throwing sticks, traps, nets and snares. They supplemented their diet with acorns, piñon nuts, various berries, roots, seeds and tubers. Alongside rivers and streams, the Serrano people lived in small settlements of 10 to 20 dwellings. Their circular-shaped homes were usually of willow frames covered in brush or tule reeds and tied with various fibers or rawhide. Several of these settlements, including Yucaipa and Cucamonga, are recalled today by modern towns that bear their names. Trade with the Mojave people to the east and the Gabrielino to the west brought the Serrano goods and, later, horses.

The Serrano used ritual, including songs and storytelling, to pass on the knowledge necessary to maintain the earth's natural order. Skilled artisans, the Serrano were known for their delicate, ornate pottery and woven baskets.

The stable lives and traditions of the Serrano changed drastically around 1790, when they were drawn into the San Gabriel Mission. Hard labor and European diseases took their toll. By the early 20th century, a group of approximately 1,500 Serrano people had dwindled to 119. Today some Serrano descendents live on or near the San Manuel and Morongo Reservations.
For more information on the Serrano Indians see:
Serrano Ethnography & Ethno History
Traditional Territory, Oral History, Resources, Material Culture, Technology, Trade/Exchange, Religion, History ...

Additional Indian cultural information:
California Desert Indian Uses of Native Plants
In the desert, Indians found native plants and other natural objects that not only ensured their survival but also ...

For historical information on California Indian cultures see:
Historical Sketch of the California Indians
Covering five major time periods in California history. They are the following natural divisions: the time prior to ...