Northern Mojave Desert - Valleys
Searles Valley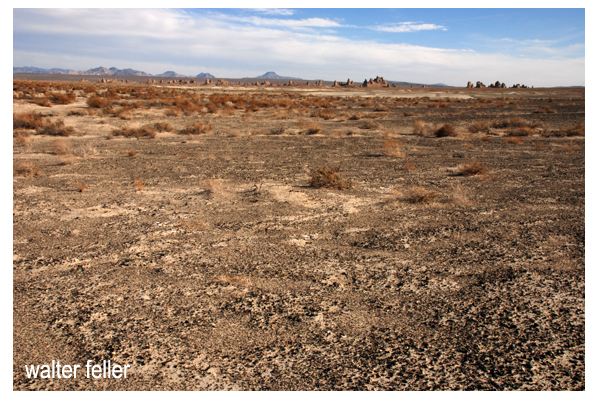 Trona Pinnacles
This eerie, fantastic landscape is one of the most unique geological features in the California desert. These other-worldly shapes are ...
Trona
Searles Dry Lake
Ruth Mine
Ecology
Searles Valley - Owlshead Mountains
322Af - This subsection includes the Slate Range, El Paso Mountains, Quail Mountains, Owlshead Mountains, southern ends of the Argus and Panamint Ranges, Searles Valley, ...

Mining
Argus-Slate Range Mining History
John and Dennis Searles came from New York in the 1849 California gold rush and settled near Oroville. In the spring of 1860, Dennis Searles left with a ...
Searles Lake Non-Metallic Minerals
Covering more than 40 square miles of northwestern San Bernardino County and a small part of Inyo County, Searles Lake contains half the natural elements known to man. This mineral treasure chest was ...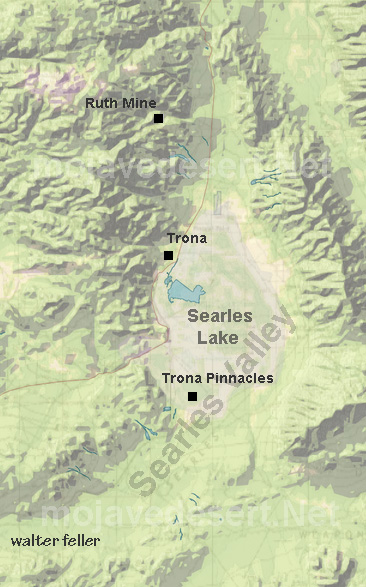 John Searles
John Searles was among those intrepid pioneers who endured hardship and privation to reach the California gold fields by way of the wagon train in 1849. Descending from ancestors who won renown with the American army in the Revolutionary war, the courage and fearlessness which he had inherited were his only possessions when he joined his brother Dennis ...