Desert Springs & Oases - Death Valley:
Owl Hole Spring
This is one of the most remote locations in Death Valley National Park. This spring in the Owlshead Mountains provides intermittant water for a variety of desert animals, including two protected species, the desert tortoise and the desert bighorn sheep.

Also see:
Avawatz
Avawatz, also spelled Ava Watts, Ivawatz, Iva Watch, and Ivanatz is probably derived from the Mohave word Avi-Ahwat meaning red boulder. Silver in the Avawatz Mining District was discovered about ...
Searles Valley - Owlshead Mountains
... includes the Slate Range, El Paso Mountains, Quail Mountains, Owlshead Mountains, southern ends of the Argus and Panamint Ranges, Searles Valley, Long Valley, and the southern end of Panamint Valley. ...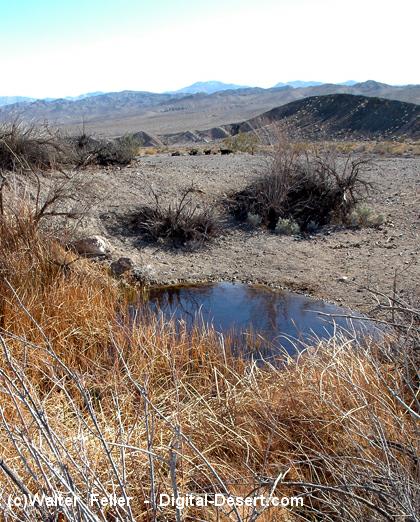 Owl Hole Spring