Geology: Mono Lake
Tufa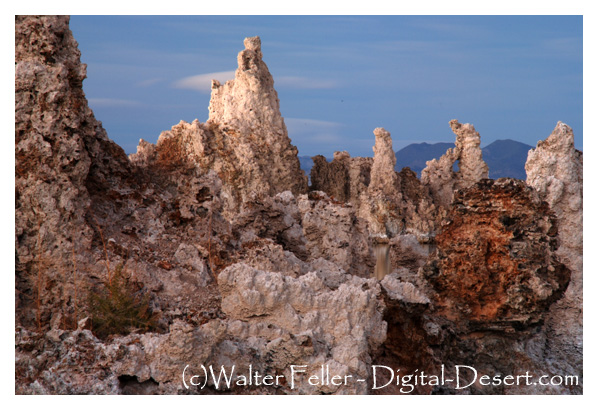 Salty lake water (carbonates) + freshwater springs (calcium) = Tufa (calcium carbonate).

Mono Lake's tufa towers (pronounced "toofah") are spectacular examples of what nature can do with a few basic elements. These unusual spires and knobs are formed when calcium-bearing freshwater springs happen to well up through alkaline lake water, which is rich in carbonates. The calcium and carbonate combine, precipitating out as limestone. Over many years, a tower forms around the mouth of the spring. This tufa-forming reaction happens only in the lake itself. As lake level drops and exposes the tufa towers, they cease to grow.

The towers at South Tufa are estimated to be between 200 and 900 years old. Far older tufa towers, some of them as much as 13,000 years old, can still be found high above the current lake, along Mono's ancient shore.

Tufa is found in other alkaline bodies of water, but the variety and quantity of Mono's towers is unique.

Tufa is also formed as freshwater springs percolate through briny lake-bottom sand. The "sand-tufas" are intricate sand tubes and columns exposed as winds strip away their sandy coverings. You can see sand tufa formations near the Navy Beach parking lot.

The best place to visit the tufa towers is at the spectacular South Tufa Area.